Netflix latest manga adaptation Death Note has made a lot of hubbub over the last couple of months. And, it finally arrived on Netflix on August 25, 2017. But the movie is accused of another Hollywood whitewashing controversy because of casting the lead character Nat Wolff as Light Turner instead of an Asian actor.
Also read: Watch Death Note trailer: Netflix movie draws flak for Hollywood whitewashing
Adapted from writer Tsugumi Ohba's manga series, Death Note revolves around a young high school student named Light Turner who suddenly stumbles upon a supernatural book, Death Note. The book, which allows its users to kill people, actually belonged to the god of death Ryuk. And, he only communicates with the user of the book.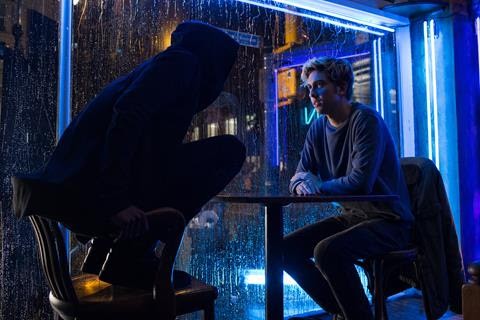 In the trailer, we see Ryuk explaining the book's objective to Light. And, Light wants to utilise the book 'to solve all the crime' in the world. Meanwhile, international detective L embarks on a mission to find Light and stop him from the dangerous killing spree.
The much-anticipated Netflix horror movie failed to leave a mark on the critics' notebook. Let's see what the critics are saying.
Metro
The film, however, while serving as another stylish treat for the eyes from director Adam Wingard (You're Next, The Guest), gets lost in translation to live-action.
Much like its source material, the feature film of Death Note also trails off into a cat-and-mouse chase storyline which is far less interesting than its original premise.
The Verge
Death Note's characters tend to bleat out their innermost feelings in bursts of forced exposition, but those feelings aren't always reflected in their actions. There's a constant clash between their lives, and how they explain their lives. And while they're all hollow adaptations, the film suffers the biggest loss through its lead.
Watch the trailer below.
Variety
According to the rules, only he (or she) who wields the Death Note can see Ryuk, and though the creature design is fantastic — with his feathered collar, jagged grin and glowing jack-o'-lantern eyes, he outdoes even the "Donnie Darko" bunny — it's the uncanny way they've adapted him to reflect Dafoe's already intense features that will haunt your dreams for nights to come (to say nothing of the actor's naturally demonic voice).
Los Angeles Times
Rather than completely reimagining the source material, Wingard and the writers have dragged along too much of the original's sprawling plot and cultural trappings, making something that unsatisfyingly compresses and dilutes the full vision of Ohba/Obata's "Death Note".