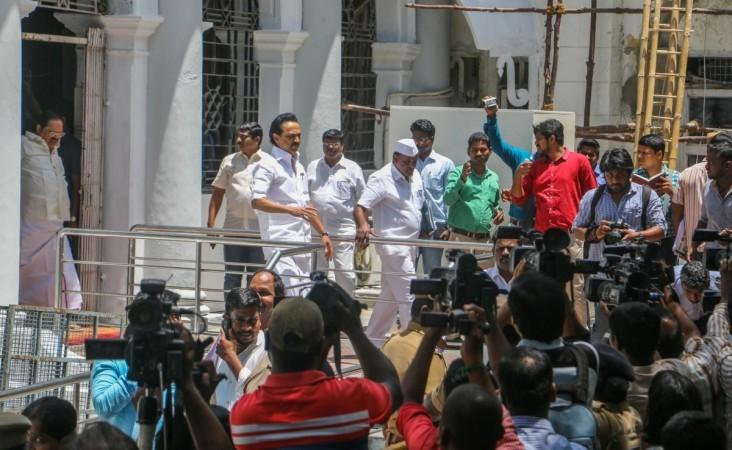 The recent death of S Pratibha, a medical aspirant from Villupuram district in Tamil Nadu, sparked political debates at the Tamil Nadu Assembly on Tuesday, June 5.
Pratibha allegedly committed suicide on Monday, as she was unable to clear the National Entrance-cum-Eligibility Test exam. This led to MK Stalin, the Leader of Opposition, raising concerns at the state assembly over NEET aspirants committing suicide.
The teenager's suicide sparked a war of words between AIADMK and DMK following which the latter claimed that the ruling party had failed to protect Tamil Nadu students who are aspiring to study medicine, Hindustan Times reported.
Stalin, along with DMK MLAs, walked out of the assembly, stating they were discontent with the AIADMK's stand on the NEET issue. The DMK chief also questioned the ruling party's leadership over the death of another girl named S Anita, who had reportedly committed suicide last year after scoring low marks in the medical exam.
"We lost Anita last year and Prathiba, daughter of a coolie, this year. Krithiga of Ginjee struggles for life after attempting suicide. Don't understand how many we would lose. It only proves the Centre's stepmotherly treatment towards Tamil. The dreams of TN students of becoming doctors are shattered," Times of India quoted Stalin as saying at the assembly.
Almost 24,720 students appeared for NEET in Tamil Nadu. According to reports, only 1,337 students from government schools were able to qualify for the entrance test. According to School education minister KA Sengottaiyan, the state government had set up 412 coaching centers and nearly 72,000 students were trained for the test.
"Tamil Nadu has around 5,600 medical seats, but why lose medical seats to students from other states? There is no social justice in the state," DMK legislator Thayagam Kavi was quoted as saying by Hindustan Times.
Actor-turned-politician Rajinikanth expressed his sadness over the death of Pratibha and said that it was pitiable, adding that such incidents should not continue any longer.