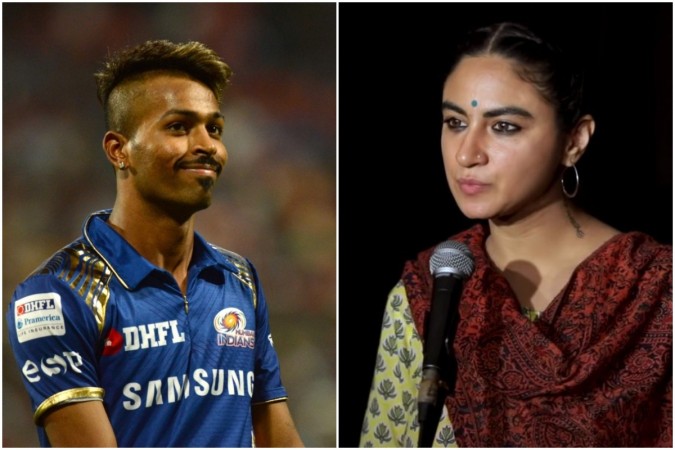 Cricketer Hardik Pandya has been receiving a lot of backlash from all ends for his misogynistic and sexist comments on Koffee with Karan. Now, ex Bigg Boss contestant and actress, Priya Malik came up with a video, slamming Hardik for the same.
Titled "Dear Mister Player", Priya delivered some powerful words while a guitar is played in the background. Targeting Hardik for his comment saying, "aaj mein karke aya (sex)", Priya starts the video saying, "Dear Mr. Player, aaj mein karke aayi. No, not sex. But a lesson on respect, gender sensitivity and sexism which is available to you for free".
In the 2.40-minute long video, Priya educates Hardik on respecting women, and how "rampant misogyny" is not "cool". The video is going viral on social media as many have been sharing it with praising words for the woman.
Hardik has been receiving a lot of flak for his multiple controversial remarks on the show. Although he apologised for his words, the cricketer and KL Rahul, who was also a part of the show, have been temporarily suspended from playing the sport by BCCI. There are reports that Hardik has lost out on some endorsements also.
In his apology, Hardik had stated that he "got carried away" on Karan Johar's show and he did not intend to hurt anyone's sentiments.
"After reflecting on my comments on Koffee with Karan, I would like to apologise to everyone concerned who I may have hurt in any way. Honestly, I got a bit carried away with the nature of the show. In no way did I mean to disrespect or hurt anyone's sentiments. Respect," he said.
Nonetheless, his apology seems to have failed to pacify people as he is still being bashed on social media and other platforms.
Watch Priya Malik's video below: