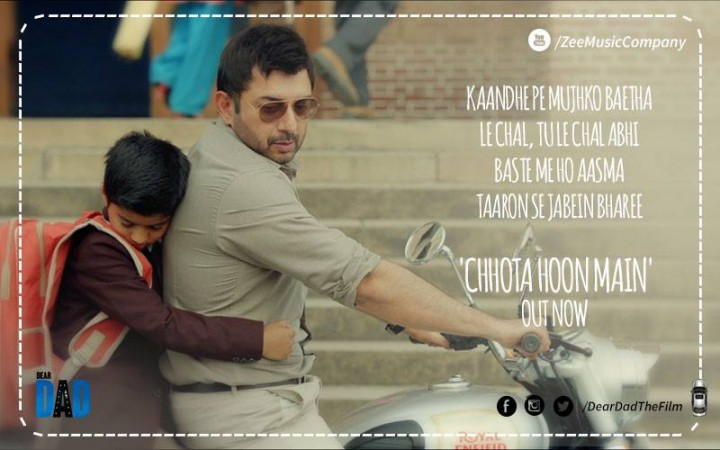 Arvind Swamy's comeback film "Dear Dad" has opened to mixed reviews. The film was much awaited as it marks the return of "Roza" actor Arvind on the silver screen, but "Dear Dad" slightly disappoints critics.
"Dear Dad" is a sweet tale of a father-son duo – 14-year-old Shivam and his 45-year-old dad Nitin Swaminathan. The film directed by Tanuj Bhramar, features Arvind, Himanshu Sharma, Ekavali Khanna, Aman Uppal and Bhavika Bhasin in pivotal roles.
Read the critics review of "Dear Dad" below:
Subhash K Jha said: "Though this is a film about painful revelations Dear Dad is not a sad film. It doesn't celebrate human frailty."
Nandini Ramnath of Scroll.in said: "The movie wants to say something poignant and profound about the need for sons to accept their father's decisions, but it doesn't have the material to do so. Still waters are meant to run deep, but in Dear Dad, they remain still."
Surabhi Redkar of Koimoi.com said: "Dear Dad sets out to be an emotional roller-coaster ride but rarely touches your heart. Dear Dad misses out on becoming a gem because of its treatment."
H Shivkumar of BollywoodLife.com said: "Definitely watch it for it will broaden your mind about homosexuality and how it is not a choice but just a preference people are born with. It will definitely inspire more people in India to come of the closet and embrace their true nature without shame. Do not miss this film!"
Devesh Sharma of Filmfare said: "Go watch this short, sensitive film that gives out the message that parenthood has nothing to do with one's sexuality. That all every family needs is a little more love to make the scars heal..."
Mohar Basu of the Times of India said: "Dear Dad deserves a watch simply for the profound point it makes about accepting people for who they are and loving them unconditionally."