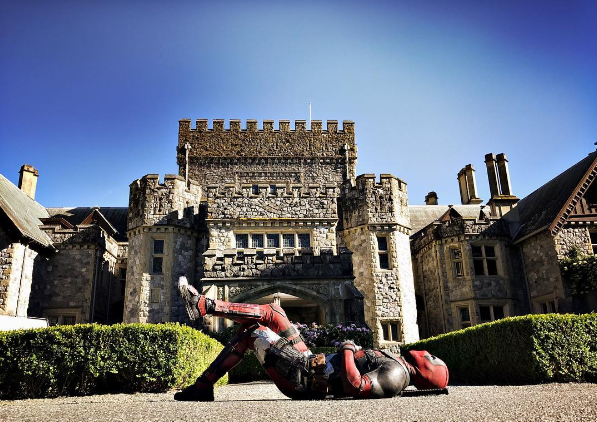 Weeks before the filming began, Deadpool 2 makers had announced the new cast members joining the sequel. Though Cable actor Josh Brolin's casting stole most attention, the fans were thrilled to know that Zazie Beetz has also been taken on board as Domino.
Days after the announcement, Ryan Reynolds has revealed the first look of the mutant mercenary in the movie and she looks fiery hot. He shared the picture on his Instagram account and later tweeted it as well.
Also Read: Deadpool 2: Creator teases what to expect from X-Men R-Rated sequel
Welcoming her in complete Deadpool style, Reynolds captioned the picture: "Some people just know how to work a red carpet. #Domino #DeadPool2"
In the picture, Beetz is suited up as the fiery Domino, lying in front of a wood fire. Her oomph doubled when she was seen lying on Deadpool's suit. What a "red" carpet entry, we must say! While the costume is not the exact replica from the one in the comic book and a few fans did point it out instantly, there were many who welcomed the hot new look with open arms.
"Omg I thought Beyoncé," wrote a fan while another called her a badass! "Zazie looks great and I'm sure she will do well in the role. Super excited to see it," complimented another.
In the comics, the character is fully clothed and covered, except for her face. The X-Men movie has opted to draw inspiration from the suit in the comics but gives Zazie a character that stands out from the comics. Instead of keeping to the traditional design, of using a black patch around her eye, Deadpool designers flipped the arrangement and used a white patch on her dusky skin tone.
While the picture doesn't outrightly reveal anything about her role in the movie, Domino strategically placed on Deadpool could indicate that there will conflict through the movie. Domino has been by time-traveller Cable's side though the comics and in the movie, she will be seen doing the same with Brolin by her side.
According to The Hollywood Reporter, Domino duplicates elements from different Marvel characters. She is a remodel of Black Widow from The Avengers with some Wolverine narrative DNA and some powers from Longshot.
With the new costume, could fans expect Domino with different skills, features and character in the movie? Fans will have to wait till June 1, 2018, to find out!
Deadpool 2 trailer: