All hail Wonder Woman. It has been over a month since it got released but the Gal Gadot starrer does not show any signs of stopping. After beating several Marvel movies like Iron Man, Thor and Captain America, the DCEU movie is headed to become the highest grossing superhero origin movie ever. Currently, the No. 1 spot is held by the 2002 release, Spider-Man.
While actors from Marvel and DC studios have congratulated the team for their achievements, Deadpool actor Ryan Reynolds applauded Wonder Woman for its box office collection like no other.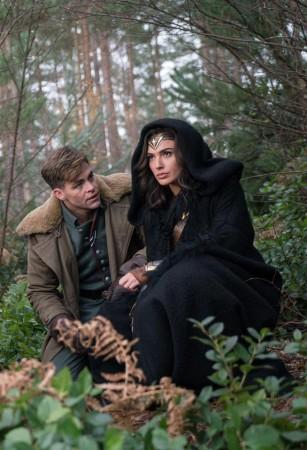 The X-Men actor, who has been busy in Vancouver shooting the sequel of Deadpool, took to his official social media accounts and appreciated the DCEU movie's achievements.
Donning his suit, the actor is seen wearing a chain with the Wonder Woman logo around his neck. He posed with hands shaped into a heart and the Wonder Woman logo placed in the centre of it. Posting the picture, Reynolds wrote: "The Merc May Be Filthier, but Her B.O. is Stronger. Congrats."
The Patty Jenkins-directed film has created a storm at the box office as it has already surpassed the collections of Man of Steel. The film's collection moves closer towards that of Batman v Superman: Dawn of Justice.
Reynolds joins the long list of celebrities, including Chris Evans, Chris Hemsworth, Dwayne Johnson, Zack Snyder and James Gunn, who reacted to the jaw-dropping box office collections.
The film currently stands at $745 million, crossing Man of Steel's worldwide collection of $668 million. Looking at the rage it is becoming, Wonder Woman could come close to, if not pass, Batman v Superman's global box office collection of $873.30 million.
While the world witnesses Wonder Woman breaking records, the makers have already begun work on Wonder Woman 2. New spoilers from the movie reveal that Wonder Woman 2 will watch Chris Pine return despite his fate in the first movie.
According to Screen Rant, the film will be another historical adventure set in the 1980s. The website reports, "The film will send Diana against the forces of Soviet Union in the closing days of the Cold War. The production team is expected to remain on board for the sequel, with confirmation that Geoff Johns is developing Wonder Woman 2's script with Jenkins."
As of now, Wonder Woman Gal Gadot will be seen in Justice League that is scheduled for release in November this year.