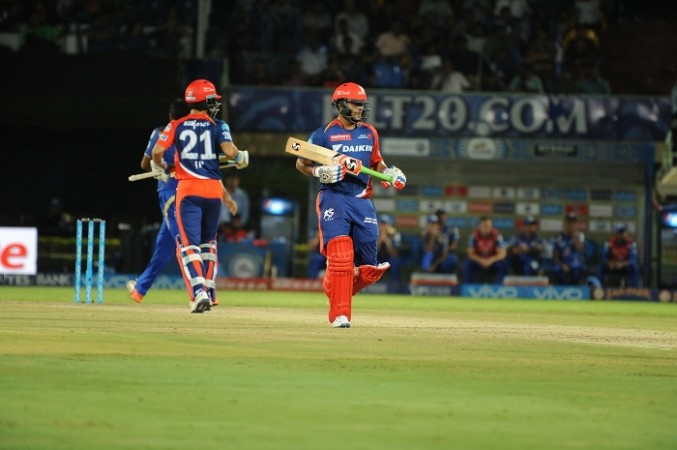 The IPL 2016 has been interesting, with not a single team having guaranteed playoff berth. Sunrisers Hyderabad can clinch the all-important spot with a win against Delhi Daredevils in Raipur on Friday.
However, Delhi Daredevils stand on their way, but if DD continue their poor record of late, they will only make SRH's task easier.
Here is a look at how the DD vs SRH game might go in Raipur.
If DD bat first: Quinton de Kock and Shreyas Iyer starts on a decent note, and manages to score 46 runs in the first six overs. Mustafizur Rahman takes two quick wickets, and SRH are in a good situation, but JP Duminy, who has been out of form, plays a counter attacking brand of cricket, and scores a quick-fire 40 runs, providing the team great momentum. But Sanju Samson and Rishabh Pant failure pegs back DD, who score 151 in 20 overs after a late onslaught from Chris Morris.
SRH get off to an amazing start, and once again it is David Warner with his flurry of boundaries in the first six overs, which helps them score 57 runs. Though Warner is gone, Shikhar Dhawan controls the innings alongside Yuvraj Singh. It does not look like the two left-handers are in any trouble, as they complete 100 runs in the 11th over. Yuvraj carries his bat through and helps SRH reach the target in 17.5 overs to emerge triumphant.
If SRH bat first: Warner and Dhawan are in dangerous mood as they deal in boundaries from the first over. The DD bowlers look clueless as the two left-handers continue their aggressive batting. They score 65 runs in the first six overs, and reach 100 in the 10th over. But Imran Tahir and Amit Mishra puts a break on scoring, and dismisses both the batsmen, and also Deepak Hooda. Yuvraj Singh and Moises Henriques take centre stage, and look to build upon the flying start. Though Yuvraj scores 17 runs only, Henriques powers SRH to 187 runs in the first innings.
Kock and Iyer start well, but the South African batsman gives his wicket away, playing a rash shot, which pegs them back. Even the promotion of Morris does not work as the right-hander is also gone after scoring 10 runs only. The run rate is increasing every over, and the task is looking uphill. However, DD batsman Duminy shows his class, and takes the attack to the SRH bolwers, but after his wicket, DD fail to cope up with the required run rate and wickets begin to fall like pack of cards. DD fall short by 47 runs.