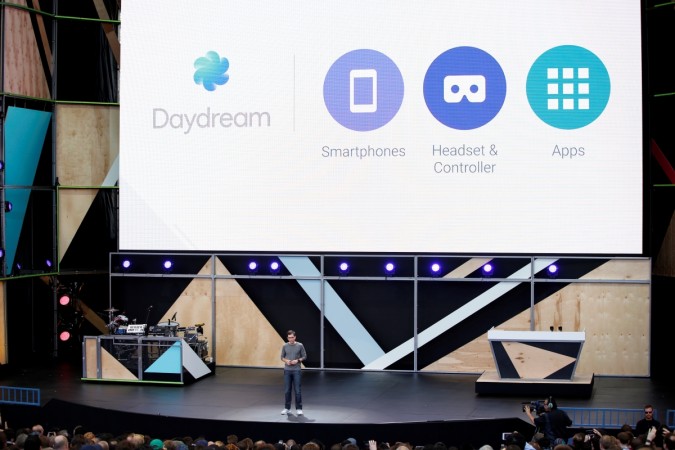 Google unveiled its big VR plans at I/O in May and expects Daydream VR to change the world. Daydream VR ecosystem comprises a handset, a headset and a rich portfolio of apps, and the company recently announced the ZTE Axon 7 as its first Daydream VR-compatible handset.
Android Central reported on Friday that the ZTE Axon 7 is so far the only Daydream VR-ready phone. The 5.5-inch smartphone packs between 4 and 6 GB of RAM and features a Qualcomm Snapdragon 820 processor. It's also got a WQHD AMOLED display. WQHD stands for Wide Quad HD, which is essentially four-times the resolution of 1080p full-HD resolution. At 1440 pixels on the shorter side, it's perfect for VR.
This is also why Google says that the smartphones available today won't play nice with Daydream VR. Google's VR chief Clay Bavor, while announcing the platform, said that the "Daydream" name would also be associated with specially designed smartphones and VR headsets as well.
In an interview with RoadToVR Bavor said: "I can tell you that there will most likely not be any 'retroactively' Daydream-ready phones. We want to hold a very high quality bar, and for that to happen all the components need to be just right. So, to VR fans, I would say, hold off for a few months to get your next phone... and get a Daydream-ready phone."
What makes for a Daydream VR-ready phone?
The RoadToVR report details that Daydream VR-certified phones would need to be able to present the content in high detail; that means the pixel density needs to be very high so that when viewed through the magnified lenses in a VR headset, the pixels won't be noticeable. They would also need a really fast screen refresh rate.
The report also said that Daydream VR phones would need sensors that are very precisely calibrated. This is to enable accurate head tracking. To get a sense of perspective on why the sensors need to be accurate, one would be surprised to learn that the HTC Vive VR headset features a total of 39 sensors to accurately track the movements of the user's head.
Finally, VR-ready phones would not only need highly efficient processors, they would also need a lot of RAM and most importantly, a significantly better graphics processing unit (GPU). This is primarily because the video feed will need to be relayed in at least 60 frames per second and the feed will need to be displayed twice simultaneously.
This trend is what is getting chip-makers like ARM to make processors and GPUs for smartphones that are tailor-made to handle VR.
What about the Google Nexus 6P?
The Huawei-built Google Nexus 6P does have a lot of these specs down to pat. It features a 1440 x 2560 resolution screen with a pixel density of 518 ppi. It's got a rather relevant Snapdragon 810 and has a dedicated GPU to boot. It's also got 3 GB of RAM. Finally, the Nexus 6P will also be getting Android N, which automatically brings Daydream VR to the device.
A Huawei spokesperson confirmed to the International Business Times, India that "installing the latest version of Android N on the Nexus 6P will result in the low-latency graphics performance necessary for immersive VR."
The spokesperson also said that the Nexus 6P that Huawei built in association with Google is also "supported as a headset phone for a Daydream development kit."
There's only one small hitch though. According to Google, "The 6P's thermal performance is not representative of the consumer Daydream-ready devices that will be launching later this year. In particular, expect the 6P to thermally throttle CPU and GPU performance after a short period of use, depending on workload."
That's a bummer.