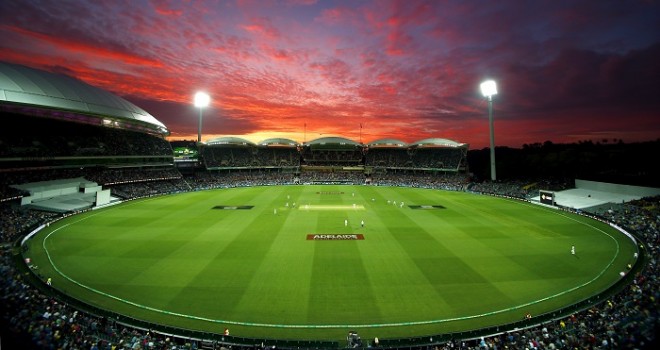 Cricket South Africa are yet to agree on playing a day-night Test match against Australia in Adelaide in November. There are contrasting views regarding the pink-ball Test match among South Africa cricketers such as Dale Steyn and AB de Villiers.
Test captain De Villiers might not be too keen on playing a day-night Test, but bowling spearhead Dale Steyn wants to feature in the day-night five day game. Australia and New Zealand got the ball rolling as the two countries were involved in a first day-night Test at the Adelaide Oval last year, which witnessed some good crowd, pouring out in numbers.
Seeing such an atmosphere for the day-night Test match, Steyn wants to test his skills with the new ball.
"I don't want to go through my whole career without playing a day-night game," cricket.com.au quoted Steyn as saying.
"How cool are they? I thought it looked awesome when New Zealand and Australia played one. It looked entertaining, there was a big crowd. The ball is pink – it's something different. You want to test your skills with that whole thing and it's very exciting."
The crowd turn-out might have been good during the day-night game, but De Villiers is not eager to feature as he has some concerns. The South Africa Test captain has talked to a few players, who played the inaugural pink-ball Test in Adelaide, and there are 'too many unknowns' regarding day-night matches.
"At the moment, we are not too keen on playing in the proposed day-night Test match due to a few concerns that have come from a number of sources involved in the maiden Test played last year," ESPN Cricinfo quoted De Villiers as saying in Independent Media.
"We had a meeting with Steven Smith and some of the Australian players when they toured here earlier this year, and the consensus from our talks were that there are just too many unknowns."
De Villiers also feels that the pink ball, which is used in such Test matches, undergoes wear and tear quickly, compared to the traditional red cherry, with which the game has been played from the days of yore.
"The pink ball has had some issues with how it responds to 80 overs of Test cricket and that is one of the key issues that we feel plays a big role in the success of the day-night Test," De Villiers said.
"The pitch also had to be 'doctored' to minimise the abrasive wear and tear to the pink ball, which seems to happen quicker than the red ball, and this is also an area we feel is a big factor in the run of play."
At present, one does not see the scheduled third Test match between Australia and South Africa, which starts on Nov. 24, being played as a day-night game.
However, not all countries are opposing day-night Test matches, as Pakistan have given the green light for a pink-ball Test in December at the Gabba.