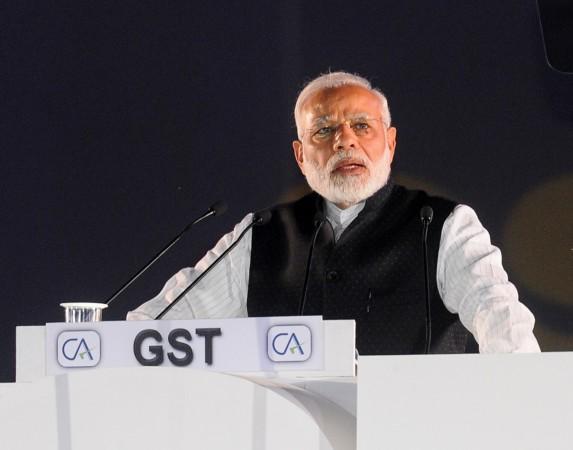 Prime Minister Narendra Modi on Saturday said that the recent changes in the Goods and Services Taxes (GST) regime, which gives relief to small and medium businesses, have been appreciated across the country and have brought in an early Diwali.
"Today, I have seen newspapers from across the country. They carry headlines that Diwali has come 15 days earlier. You all must be busy preparing for Diwali, and in Gujarat, Diwali is celebrated with great enthusiasm, especially among businessmen," Modi said while addressing a public gathering in Dwarka, Gujarat.
Modi is on a two-day visit to Gujarat, his poll-bound home state. The Prime Minister launched several projects, while slamming the Congress party for questioning Gujarat's development model, according to PTI reports.
He also called for the importance of digital literacy in his speech, and called it a crucial element in transparency and good governance.
Modi added that the government had earlier said that it will study the GST for three months after its implementation and then make the changes with the model after evaluating the problems.
"(We had said)...Wherever there are problems in these three months, as in the areas of management, shortage of technology, problems related to rules, complaints regarding rates, trouble in practical experience of business class, we will address it," the PM said.
The Prime Minister also said that he does not want the business class to get caught in red tape and said that the Finance Minister Arun Jaitley, in a GST Council meeting on Friday, convinced everyone about the need for changing some of its provisions.
"I am happy that it has been welcomed in one voice across the country," PM Modi said. "I can experience this and I am thankful to the people of the country for the way they have welcomed our effort to make simple tax simpler."
The GST Council made sweeping changes on Friday to the new indirect tax regime three months after it was released. The changes give relief to small and medium businesses on filing and payment of taxes, eased rules for exporters and cut tax rates on more than two dozen items.