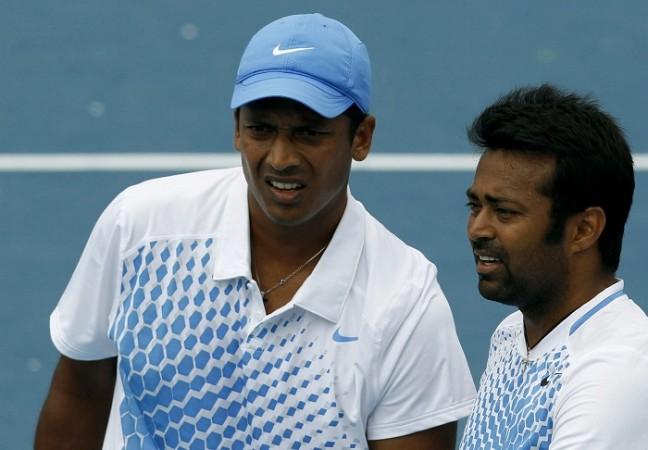 Mahesh Bhupathi will take over as the next non-playing captain of the Davis Cup team from Anand Amritraj with the latter's final game in charge to be the Asia/Oceania zone group I home tie against New Zealand, which takes place in Pune, from February 3 to 5.
"Everybody should get a chance to be the captain. No post stays with one person forever. I personally spoke to Bhupathi and asked if he was available...he said 'yes'. That was it. Also, we wanted to give Amritraj a farewell tie," Firstpost quoted the AITA Secretary General Hiranmoy Chatterjee as saying.
Current captain Anand Amritraj said he was surprised that Bhupathi had been appointed considering that he did not know that he was interested in this job.
"I had been requested to stay for one more year. Because we had done well in the last few years, the team was happy," the Indian Express quoted Amritraj as saying.
"So I agreed and then I'd step down, and you can appoint whoever you want. It's kind of amazing because till yesterday I didn't even know Mahesh was interested. His name was never heard of. I didn't know he was that interested. But it was an interesting decision to split up the year."
He also feels that the Indian tennis legend will have a tough time when he takes over as captain because the rapport between him and the players has been excellent in the last few years.
"I think personally, he's going to have a hard act to follow. Without sounding too cocky, I can say that he's going to have a hard act to follow. Because the rapport between me and the players has been excellent. So for him to come on board and try to take on the reigns is not going to be that easy. But the rest of the team is in place. Zeeshan is still there, the other three boys are still there, Saketh, Yuki and Ramkumar. They were all in support of me being captain. They all signed that letter that was sent to the AITA. That's all I can say" Amritraj said.
The most interesting part of Mahesh Bhupathi's appointment as the captain of India's Davis Cup team is that now Leander Paes will play under him. The duo were one of India's best doubles pairing as they won three men's doubles Grand Slam titles together. Since then both of them have had a falling out and things have never been the same between them. There were a lot of verbal exchanges over the years too and Anand Amritraj feels that the two of them have to put their differences aside for the sake of the team.
"I don't know how. But they have to put their personal differences aside at this point. Whatever differences they had. I don't know what it is, but finally it all comes down to ego and putting it aside. It was kind of difficult between Rohan and Leander earlier. The relationship between them was always, well, they were both used to being the top dog. It's not easy. They were individually great doubles players, but they never gelled as a team, in my opinion. I'm curious to see the interactions between him and Leander. That'll be really interesting. They've been at odds for the last 20 years. I'm curious to see how that plays out." Amritraj was quoted as saying.