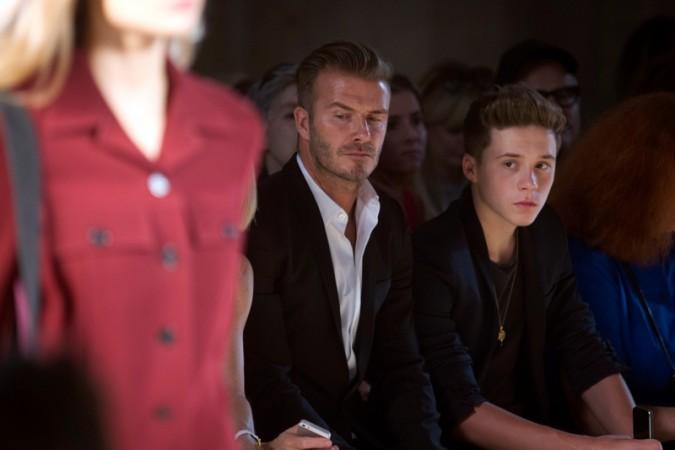 David Beckham, the hunky soccer star and his 15-year-old son Brooklyn were involved in a car accident on Saturday in Hertfordshire, England, and fortunately no one was hurt. However, the two are pretty shaken by the incident.
Brooklyn plays for Arsenal's under-16 and had just finished a match with Brighton's team. Thomas Cadman, a player for Brighton, tweeted about the accident.
"Weird to play against Brooklyn Beckham earlier. Even weirder to be currently stuck behind David Beckham as he has crashed his car."
Beckham went to pick up Brooklyn at the Arsenal training ground and was leaving the area when his Audi collided with a woman's Mitsubishi while reversing. The collision was pretty dangerous and could have caused serious injury if not for the air bags that deployed right on time.
Beckham reportedly apologized profusely for crashing into the woman's car. He even offered his jumper to the woman while they were waiting for help. The woman and her daughter were taken to the hospital for minor injury treatments.
The driver's seat of Beckham's car was apparently "wrecked" and the Mitsubishi was damaged as well, according to The Daily Mail.
Though the father-son duo walked away safe, they were both shaken by the incident, a source told The Telegraph.
"They were shaken. It was quite a heavy prang at quite a speed but everybody walked away uninjured. Everybody's fine. Thankfully the car's airbags deployed," the source said.
This is not the first time the Beckham family has been involved in a car mishap. In May 2011, Beckham clipped a vehicle while swerving to avoid a crash in a lane in Los Angeles. In October last year, Beckham's SUV collided with another car near their Beverly Hills home. Brooklyn was seated in the passenger seat then too.