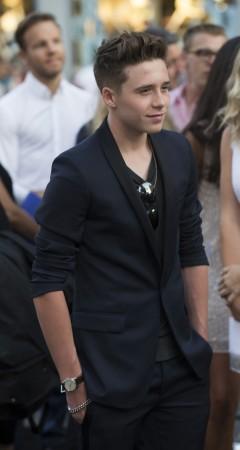 Arsenal have beaten the likes of Chelsea and Manchester United to the signature of David Beckham's son Brooklyn, who has reportedly penned a one-year deal at the Emirates.
According to the Daily Star, the 15-year-old was made the offer after he managed to impress the coaches of the North London based club.
The report added that Brooklyn, who has been training with Arsenal, will be handed a longer contract at the end of this season if he continues to impress the Gunners coaches.
"Brooklyn is talented and he has stood out in all of the training sessions and games he has played," said a source, according to the Daily Star. "He has had other teams sniffing around and it was always going to be a case of when, not if, he was signed up by a big-name club."
"Arsenal realise he can be a huge talent. They have seen that potential and protected their asset," the source added.
The source, who claims that Manchester United and Chelsea were also interested in signing Beckham's eldest son, says that Brooklyn may be signing a professional contract with the Gunners next summer.
"The club has signed him, fending off interest from Manchester United and Chelsea in the meantime," he added. "Next summer we may see him sign a big-money deal and with Arsenal."
Arsenal boss Arsene Wenger, who has a knack for discovering star players at a young age, is also reportedly impressed with Brooklyn.
"Brooklyn really has potential. Wenger was impressed with his talent, his attitude and his drive to succeed," added the source.
Despite Beckham having connections with Manchester United due to him playing at the club from 1992-2003, his family support Arsenal.
Due to this, Beckham's other sons Romeo, 12, and Cruz, 9, have also reportedly joined Arsenal's under-13 and under-10's sides respectively.
"The Beckhams have a strong link with Arsenal despite David's Manchester United past."