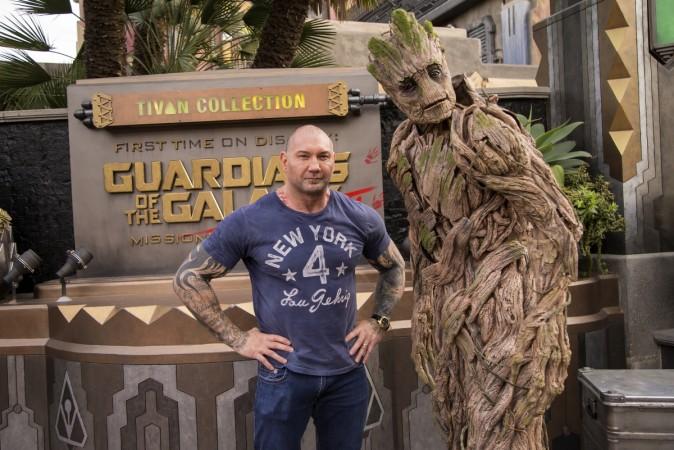 Guardians of the Galaxy Vol. 3's production is on hold after Disney and Marvel decided to fire director James Gunn over rape and pedophile tweets. Soon after his dismissal from the superhero movie, several fans came online to protest against the decision. Guardians of the Galaxy and Avengers: Infinity Wars movie star Dave Bautista talked openly about his disdain towards the decision. Now there are chances that fans won't be seeing him in future Disney films.
During a recent interview on The Jonathan Ross Show, former wrestling champion remained extremely candid and honest about his feelings towards Disney and their decision to let go of James Gunn after his controversial tweets surfaced online.
During the British talk show, when it was asked about his involvement in the future films in the franchise, especially the upcoming third part in the Guardians of the Galaxy and Avengers 4 movie, he said, "It's a bittersweet conversation — um, no, it's a bitter-bitter conversation, because I'm not really happy with what they've done with James Gunn."
As earlier reported, a small group of crew members had been preparing for the pre-production of Guardians' Vol. 3, but they were dismissed and were told to explore new work opportunities as both Marvel and Disney will work on the sci-fi film project. Considering this, that the third part is on hold indefinitely, Dave Bautista said, "To be honest with you, I don't know if I want to work for Disney."
This is not the first time when Dave Bautista remained honest about his feelings towards Disney. Back in August, when James Gunn was fired, Bautista tweeted that without James Gunn, Guardians of the Galaxy will not be the same. Check out his tweet:
He even attacked the "cybernazis" for attacking the 52-year-old Gunn, for his nearly decade-old tweets. The former MMA fighter tweeted, "What will you do when the #cybernazis attack you? Who will stand by you? Who will cowardly distance themselves from you? Who will punish you for horrible JOKES in the past instead of defending you for INSPIRING millions? MILLIONS!!! #Redemption #injustice @JamesGunn."
It is not clear whether Guardians of the Galaxy Vol. 3 and Avengers 4 will show Dave Bautista playing the role of Drax or not, but it would be heartbreaking for the fans who have started to love the character.