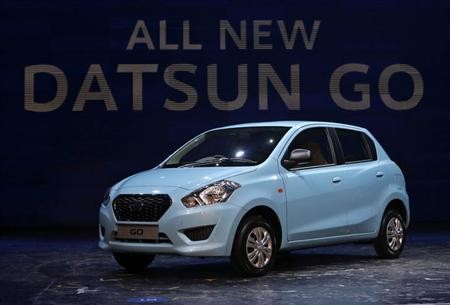 Nissan India's much-awaited small car Datsun Go will hit Indian roads on 19 March, confirmed the company.
The Go hatchback, the much-hyped and desired offering from the Dastun brand, made its first appearance at the Delhi Auto Expo. The car's production started last month at the company's Oragadam facility in Tamil Nadu, and Nissan has also started accepting pre-orders for its budget car, with an advance payment of ₹11,000.
Under the hood, the Go hatchback comes with 1.2-litre petrol engine, which can churn out a power of 74bhp and a torque of 104Nm. It is mated to a five-speed manual transmission and the car is based on the Nissan's Micra platform. The company claims a fuel efficiency of 20.6 kmpl for the car. It measures 3,785 mm in length, 1,635 mm in width, 1,485 mm in height and has a a wheelbase of 2,450 mm. The car will hit the market in white, silver, red and blue colour variants.
Previous reports suggested the company will start the delivery of the vehicle in the domestic market before the launch (15 March). Datsun Go will be pitted against some of India's best-selling cars like Maruti Suzuki Alto 800, Alto K10 and the Hyundai Eon, and is expected to fall in the sub ₹4-lakh price range. The entry-level model of Datsun Go is expected to be priced at ₹3 lakh and the top-end variant is likely to come at a price of ₹3.8 lakh.
Nissan, which has been operating in India through their country partner Hover Automotive, will now market its brand in India on its own. Currently the automaker has 117 dealerships across India and is eying to increase it to 350 in the next three years. Go hatchback is the Datsun's first offering after the revival of the brand.