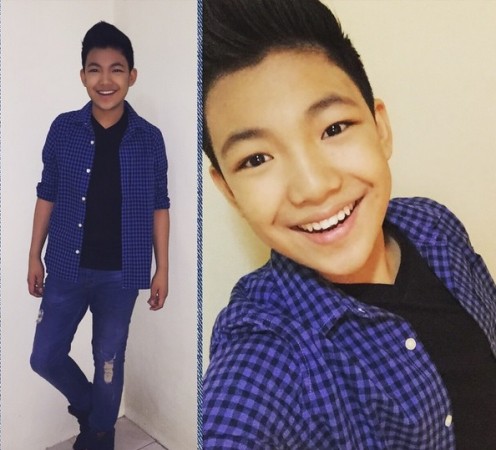 "Darrenatics" are getting increasingly ecstatic as the date for Darren Espanto Birthday Concert at the Mall of Asia draws close. When the former "The Voice Kids" star performs at the MOA arena on 29 May, five days after his 14th birthday, he will hold the record as the youngest entertainer to perform at the hottest venue in Pasay's Bay City in the Philippines.
The birthday concert will mark the Filipino-Canadian singer's very first headlining show in the arena. The tickets for the same will be sold at Php 430.00 (free seating) in general admission and at Php 4,760.00 (reserved) for VVIP seats.
The ticket prices are as follows:
VVIP - Php 4,760.00 (Reserved Seating)
VIP - Php 4,230.00 (Reserved Seating)
Patron - Php 3,700.00 (Reserved Seating)
Lower Box - Php 2,640.00 (Reserved Seating)
Upper Box - Php 1,270.00 (Reserved Seating)
General Admission - Php 430.00 (Free Seating)
The "Somebody to Love" singer will be joined by The Draybers band lead singer Mitoy Yonting and "The Voice of the Philippines" season 2 winner Jason Dy and runner-up Alisah Bonaobra, along with other surprise performances.
Tickets for the upcoming Darren Espanto concert can be bought at all SM Tickets outlets across the Philippines and online at the SM Tickets website.
Fans of Darren, who held back-to-back concerts at the Music Museum in San Juan City last year, have more than just the huge concert to be happy about. Earlier this year, the teenage heart-throb's self-titled album hit the Gold Record mark. Darrenatics all over the globe grabbed a copy or two of the album, which has eight originals tracks, including "In Love Ako Sayo", "Ah Basta Gusto Kita" and "I Believe in Me", helping the artist sell around 8,000 copies of the same within just three months.