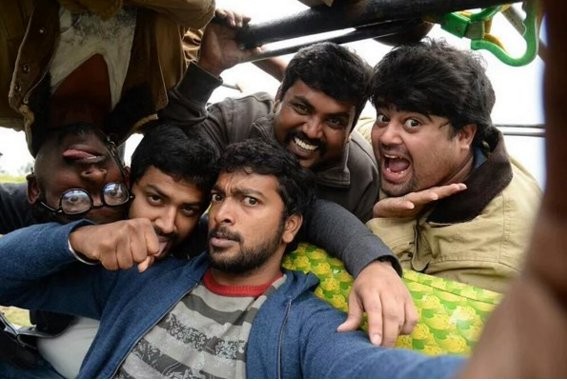 Sathish Chandrasekaran's "Darling 2," which was earlier called as "Jinn," has opened to mixed reviews. Kalaiyarasan, Rameez Raja, Maya, Kaali Venkat and Hari are starring in the Tamil flick, which has Radhan's music, Vijay Karthik Kannan's cinematography and Madan's editing. It is a horror flick produced by KE Gnanavel Raja.
Just in: SS Rajamouli to direct Ilayathalapathy Vijay | Uyire Uyire Review | Darling 2 Review | Hello Naan Pei Pesuren Review | Darling Movie Stills
The movie is a sequel to GV Prakash Kumar and Nikki Galrani's "Darling," which was one of the few hits at the Tamil box office in 2015. Hence, using this plot, the makers have come up with another horror subject. But it is not the continuation to the first part and the latest version is made with a fresh cast.
The songs "Ni Sa Garisa," "Kaatril" and "Olarava Olarava" from "Darling 2" have become hits. The trailer too has managed to generate decent buzz around the flick. Hence, people have pinned good hopes on the flick.
"Darling 2" is said to be based on real-life incidents. Bored by their monotonous work, a group of friends decide to take a break and visit Valparai. One among them is possessed with a spirit and they start experiencing frightening things once they enter a bungalow.
We are also told that a couple, who had links with the friends, was separated and this story brings the horror elements to the tale. What happens next should be seen on-screen.
Average Ratings Given by Audience: 2.5
Review:
The comedy portions in "Darling 2" is good but the the problem lies in the narration, say viewers. The pace of the proceedings in the first half does not help the film in any way. in fact, the real story begins just before the interval.
However, Kalaiyarasan, Kaali Venkat and others have done justice to their roles. Radhan's background score and Vijay Karthik Kannan's cinematography have to be lauded. Here, we bring to you the audience response to "Darling 2:"
Haricharan Pudipeddi wrote: #Darling2 may not be a great match to #Darling, but is packed with spine-chilling moments. The twist in the tale comes as a nice surprise.
Showtime #Darling2
Kaushik LM wrote: #Darling2 - Had there been more enjoyable comedy moments, the film could have scored better. Film ends with the scope for another part.
#Darling2 - Set in chilly, hilly Valparai. The fear factor is driven by the sound effects and the music. @Actor_Kalai gets the meaty part.
#Darling2 - Separated lovers, a group of thick friends, the ghost angle& typical hor-com elements. Decent 2nd half and a gripping climax.
#Darling2 is a crowd-funded attempt by the team. They have delivered a hor-com with friendship &romance being prime. Decent technical values
Priyanka Tweeted: #Darling2 begins....hope the movie will give me chilling moments....and not horrifying experience :)
#Darling2 ...spooky...chilling moments in first half...
#Darling2 turns out to an average entertainer. Only comedy parts worked. Not much chilling moments.
Weak script has played a spoilsport. A little more effort from dir could have made a good product. #Darling2
Hari Sudhan wrote: #Darling2 minutes into the first half , gives a glimpse of exorcism then shuts out with stereotyped screenplay, second half beckons!
#Darling2 after a brief delay..let's see how it scares us out
#Darling2 by the time the ghost scenes kick in, you have already started yawning! Adding to that mediocre comedy from naive actors!
Sujith posted: @iSujith_ #Darling2 First half : Very average. Not at all scary or funny. Lets see the nxt half. #Darling2 Better luck next time. 1.5/5