Danny Welbeck has been linked with a move to Everton, with Ronald Koeman desperately trying to replace Romelu Lukaku before the start of the new Premier League season.
While the immediate reaction to this story will be "No way Arsenal will sell Welbeck," if Arsene Wenger had to make a choice between Welbeck and Olivier Giroud, what would the Frenchman decide?
Clearly, Wenger likes the option of Welbeck – his pace and ability to run in behind is something that Wenger feels is essential for the system that Arsenal play. However, with Alexandre Lacazette coming in for a club record fee, Wenger now has that extra option of a striker who can do just that, with the added bonus of him being a much better finisher.
Say what you want about Welbeck – his willingness, work rate, pace and teamwork – they might all be exemplary, but when it comes to finishing, Welbeck looks more like a centre-back, suddenly stuck up front, rather than a natural finisher.
Too many times, the Arsenal forward finds himself in a great position to score, only to fluff his lines and bring out those groans at the Emirates.
With Arsenal seemingly getting an upgrade on Welbeck via Lacazette, doesn't it make more sense to sell Welbeck over Giroud, who is the Plan B option for the team?
Giroud is one of those players, who gets criticised unnecessarily no matter what he does – be that by the pundits or fans. Yet, nine times out of ten, he delivers a solid game for Arsenal. He might not be the world-class striker, who will single-handedly win you titles, but he is an extremely effective forward, someone who must stay at Arsenal this season.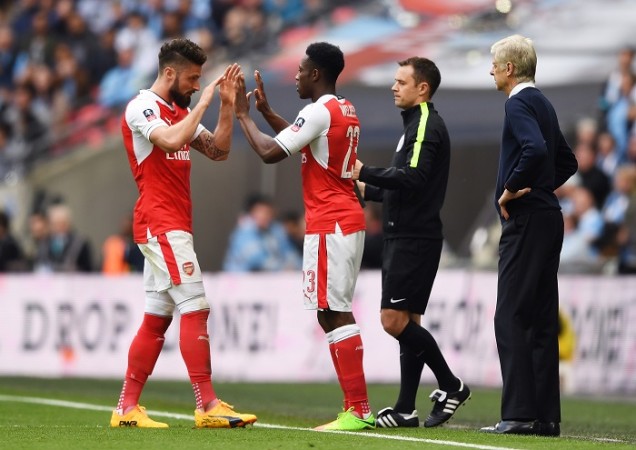 Take all of that into account, and the Welbeck to Everton transfer rumours don't sound that fanciful.
Of course, Arsenal will probably want a lot more than the £30 million that was mooted in the report, considering the crazily inflated transfer market and the fact that English players always go for a premium.
However, if the Gunners can negotiate a price with Everton, letting Welbeck go might not be such a bad idea, particularly if it means keeping Giroud at the club.
Meanwhile, Welbeck, who started the game against Chelsea on Sunday believes the Community Shield victory over the reigning English Premier League champions will give Arsenal confidence going into the new season.
"It's a good way to start and as we're going into the season starting on Friday (against Leicester City), it's a bit of a positive for us," Welbeck said.