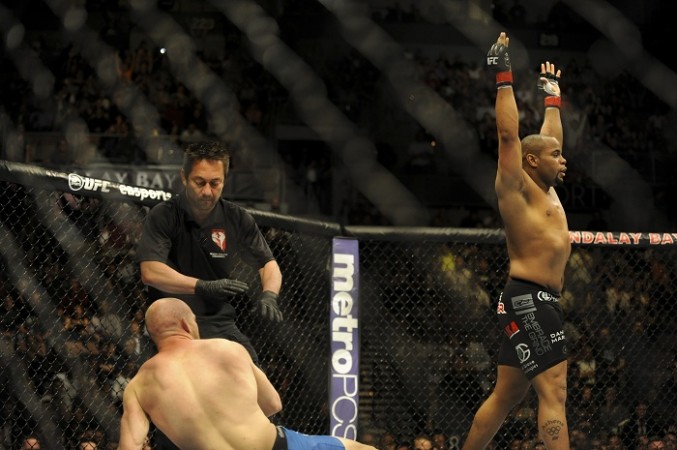 The mega-money super fight between Conor McGregor and Floyd Mayweather is edging closer to becoming a reality after UFC president Dana White confirmed that the UFC lightweight champion has finally agreed to a deal. White will now begin negotiations with Mayweather and his team, and will hope they can come to an agreement soon.
MMA stars fighting boxing bigwigs is all the rage right now, with the likes of Stipe Miocic and Jimi Manuwa openly challenging Anthony Joshua and David Haye ever since talks of the McGregor-Mayweather bout came up.
Also read: Conor McGregor vows to shock boxing world as fight with Floyd Mayweather edges closer
Despite McGregor claiming that he will shock the boxing world when he faces off against Mayweather, many UFC stars feel that the Irishman will lose to the undefeated boxer and one of them is current UFC light heavyweight champion Daniel Cormier.
"He can actually go and fight Mayweather. He will lose. But the rest of these guys, they will get no money, and they will get slept," Cormier said on UFC tonight.
"Look, James Toney fought in the UFC, and we had no problem showing the footage over and over again of James Toney getting beat by Randy Couture. These boxing promoters will constantly show videos of the heavyweight champion of the world Stipe Miocic getting slept by Anthony Joshua, or Jimi Manuwa, c'mon Jimi! Getting slept by David Haye."
"These dudes will get slept, it's going to be embarrassing, so no, it is not good for the UFC. Conor, hat's off to you, make your money, but don't get slept! Which might happen to 'em."
It's understandable why Cormier thinks McGregor will lose to Mayweather. The boxer is regarded as one of the best in his generation and the UFC champ is certainly taking a big gamble by stepping inside the boxing ring with him, given that he has no experience in boxing.
Despite that, McGregor seems really confident that he can hand Mayweather his first ever defeat and has also submitted an application for his boxing licence to the Nevada State Athletic Commission (NSCA). Bob Bennett, who is the executive director of the NSAC, said that he doesn't anticipate any issues sanctioning McGregor to fight Mayweather and was hoping for a great fight.
"He's a phenomenal athlete. He's arguably one of the best strikers from the UFC. He's in great shape; he's hardcore, he trains hard, fights hard. Mayweather is arguably one of the best fighters of all time because he doesn't believe in getting hit. But let's not forget Floyd will be 40, and Conor is 28, so it'd make for a great fight," Bennett said.
Check out Daniel Cormier complete interview right here.