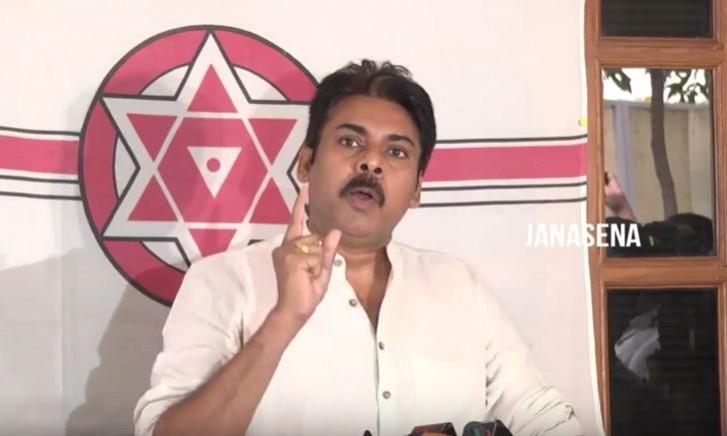 Jana Sena Party chief and power star Pawan Kalyan on Saturday, December 23, demanded justice from the Andhra Pradesh (AP) government for a Dalit woman who was allegedly assaulted by leaders from the ruling Telugu Desam Party (TDP).
The incident reportedly took place on Wednesday, December 20, in the Pendurthi village in the Visakhapatnam district of Andhra Pradesh.
It is reported that 14 Dalit families there have been engaged in agriculture in a land allotted to them by the revenue authorities under NTR Vidyonnathi scheme a decade ago. But the adjacent land was later allotted to the Andhra Pradesh Beverages Corporation for setting up of a bottling company.
Some land mafia, supported by the ruling party leaders, apparently tried to grab the Dalits' land with the fabricated documents. Resisting it strongly, the Dalits reportedly moved the high court and got orders in their favour.
Subsequently, the land grabbers made an attempt to drive away the Dalit families on Wednesday, said local reports.
This move led to clashes between the two groups. As a result, the Dalit woman who was reportedly at the forefront of the protests was dragged and assaulted allegedly by the members of ruling TDP.
She then approached the Pendurthi police and lodged a complaint in this regard, naming six TDP leaders.
Pawan Kalyan said he was shocked and disturbed by the news and he took to his Twitter account to take on the state government. In a series of tweets, the power star requested the government and the authorities concerned to ensure justice for the woman.
Here is Jana Sena Party supreme's series of posts:
People seek an explanation from AP Govt on the Visakhapatnam incident where a helpless woman was brutally assaulted by some political leaders (as the reports say they are from TDP). I was deeply disturbed by what i heard & saw.

Lack of stringent action by police & Govt on perpetrators will send wrong indications in public. In Situations like this I show restraint not to incite emotions as I had seen the repercussions of Karamchedu & chunduru incidents.

Issue being extremely sensitive in nature, any kind of statement without a forethought would create deep fissures between harmonious coexistence of communities.

If the Govt doesn't respond in the manner it has to then the outcome for sure will not be pleasant one.Think of Rohit Vemula incident how it shook up the entire nation and request the authorities not to be mute spectators.

If I come and address the issue personally,it would put a tremendous load on authorities in every way possible. Hence I plead Govt to make sure that helpless woman honour be restored and justice be done.

In such incidents atrocities done by few individuals on one helpless victim or a group will get a caste colour though the rest of the community has nothing to do with it. Crimes done by individuals on others will eventually be portrayed as community clashes.

Apart from the Govt & authorities, I also plead the community leaders of that particular caste (where the perpetrators hail from) should also address the issue & condemn it in public for the sake of peaceful coexistence & general well-being of society.

And I also request Media to play a constructive & responsible approach than a sensational approach.

If the individual rights guaranteed by constitution are being violated by any individual or group shouldn't be tolerated and if the authorities want to do the spectator job in such situations then people will take law into their own hands.

I also request the commissioner of Police and Collector of Visakhapatnam to stand by that helpless woman for speedy justice.

I will also send members of Janasena team from Visakhapatnam to meet the victim & understand what exactly happened and to pursue the local authorities for much needed justice.

And the NRI women who hail from different communities from Europe & US had sent me a plethora of messages in support of that helpless woman.

In broad daylight, a group of men attacking a woman ... whichever community she could be & whatever the reason could be .. is not at all justified.

Both ruling TDP - BJP & opposition YSRCP instead of mud slinging on each other they should come together & find a way to discuss & debate in AP assembly to avert future situations like this.