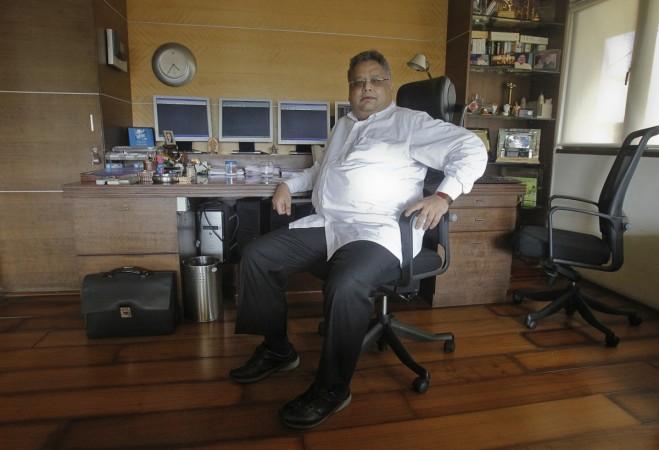 The season of political punditry is round the corner. Observers, analysts, partisans and bhkaths will have their opinion on who's going to win the 2019 Holy Grail. The discussion on prime minister probables has just begun and will gather pace in the coming months.
Meanwhile, India's sharpest investor has made his call. Rakesh Jhunjhunwala has said he expects Narendra Modi to repeat his 2014 win in the next general election as well.
"I personally feel we are far more bearish about the BJP prospects than the actual reality...I would want that Mr Modi comes back. This election is going to be fought on personalities. I can write and give you one thing, BJP will form government, with most likely Mr Modi at the helm," Jhunjhunwala told ET Now.
So why does 'India's Warren Buffett' believe Modi should win the 2019 elections? There are a couple of reasons. The foremost is that Jhunjhunwala says that Modi needs two terms to execute his plans. In an earlier interview with CNBC, Jhunjhunwala had recollected that he said the same when Modi was elected the chief minister of Gujarat.
"When he first become the chief minister, the first term was all planning. The execution came in the second term." he told CNBC. "So the question is he needs time. I think the economic thinking has been very correct, very realistic and I support whatever the street say [sic]," he added.
The second reason why the Big Bull believes Modi should return to the ramparts in Delhi in 2019 is that he's needed to drive certain projects that are going to be crucial for the country. He cited the example of the Air India rescue.
"If PM Modi is elected, it [action on air India] will be done in the second term, 101 percent. If Modi gets majority and is re-elected, which I think most likely he will be, people will be surprised by the reform and change that will take place," he said.
Hurry to unseat Modi
He is also extremely bullish about Indian economy and the stock markets. "Look at the way the savings will grow. If India has to be a $10 trillion economy by 2030, savings will be $3 trillion a year. Even if 10% of that comes to the stock market, the share market will be at $300 billion. I want to point out that 32% of household wealth in US is now equity," he said.
Another insight the Dalal Street maven gives is that the whole focus of the opposition in the country is on unseating Modi. He believes that this will fail as a strategy.
"What agenda the opposition has? Remove Modi? This is going to be fight on personalities," Jhunjhunwala said.