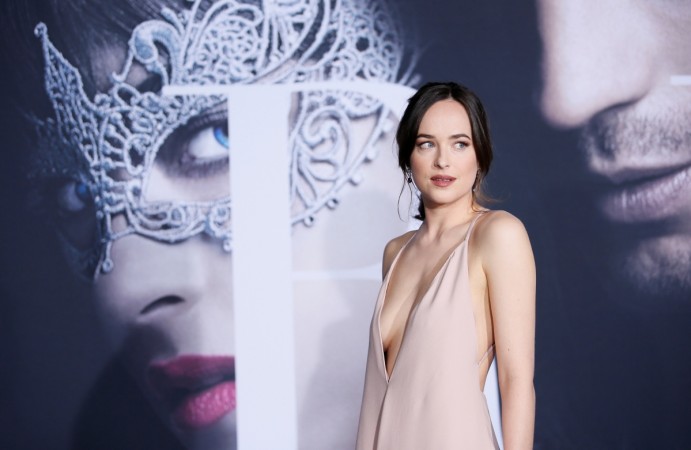 Fifty Shades movie star Dakota Johnson and the whole cast of Suspiria movie recently possed on the red carpet event at the Venice Film Festival to promote the horror flick. However, for Johnson, things got a little out of the hand when Suspiria's movie director, Luca Guadgnino, placed his hand a bit too close to her left breast.
At the red carpet event, Dakota wore a sleeveless lace dress. The released picture shows how she looks down when Luca places his hand a little too close to her breast. However, as per the report from The Sun, it seems that the director of the film was reportedly trying to shield her cleavage area and had no wrong intentions whatsoever.
Meanwhile, in the supernatural horror film, Suspiria, Dakota Johnson plays the role of Susie Bannion. The story follows Susie as she travels to Markos Dance Academy in Berlin, after which a talented director becomes fascinated with her dancing skills. During her days at the academy, some mysterious events take places among the students. The film takes a turn when the students start to disappear and how Susie uncover the academy's dark secrets. Suspiria also stars Chloe Moretz, Tilda Swinton, and Jessica Harper in the lead roles.
The film is an official remake of 1977 Italian movie of the same name but failed to impress the critics at the ongoing film festival. As of the now, the film has an average score of 76 at Metacritic, while Rotten Tomatoes gave it a 62 percent rating.
For her role in the film, Dakota Johnson had to seek the help of a mental professional after the filming wrapped. As per Dakota, "I find sometimes when I work on a project and --- I don't have any shame in this --- I'm a very porous person and I absorb a lot of people's feelings. When you're working sometimes with dark subject matter, it can stay with you, and then to talk to somebody really nice about it afterwards is a really nice way to move on from the project. My therapist is a really nice woman."
Dakota Johnson's Suspiria will have a limited release on October 26 followed by a nationwide opening on November 2nd.