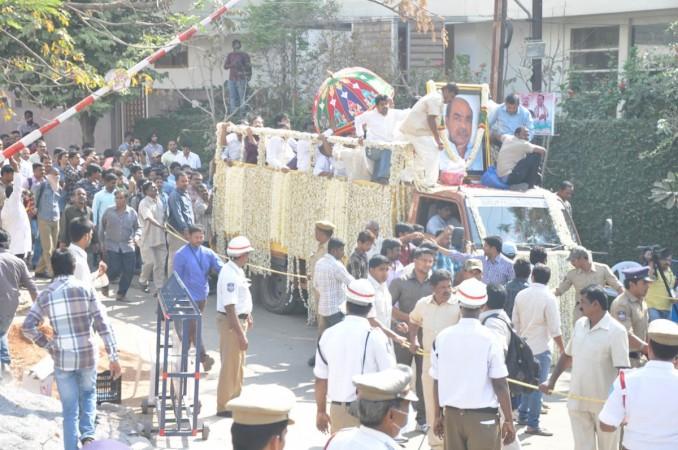 Legendary filmmaker Daggubati Ramanaidu (D Rama Naidu) was cremated with full state honours at 3.45 pm on Thursday. Before the funeral, his body was kept at the Ramanaidu Studios for the public to pay their last respects.
D Rama Naidu, who had been battling prostate cancer, passed away on Wednesday, 18 February. His body was earlier kept at his residence in Hyderabad where Chiranjeevi, Nagarjuna, Pawan Kalyan, Rajasekhar, other popular actors and actresses, many leading directors, producers, film technicians and politicians paid their last respects to the late filmmaker.
Telangana Chief Minister K. Chandrasekhar Rao, Andhra Pradesh Chief Minister N. Chandrababu Naidu, YSR Congress president YS Jaganmohan Reddy and many other leading politicians too paid their last respects to Dr D Ramanaidu and offered condolences to the bereaved family. They praised his gentle nature and spoke of his great contribution to the growth of Indian cinema.
At 9 am, the body of Daggubati Ramanaidu was brought to Ramanaidu Studios, where it was kept for some time for public darshan. Thousands of fans of the producer visited the studio and stood in the queue for hours to catch a last glimpse at the filmmaker. The atmosphere at the studio was replete with sadness with many fans and celebrities shedding tears over his sudden demise.
After the public darshan, Ramanaidu's last journey began and his mortal remains were taken out for procession in Hyderabad. The body was later brought back to Ramanaidu Studios, where the last rites took place. Tollywood has shut business for the day as a mark of respect to the late producer, who gave a livelihood to many stars and technicians in the industry.
The Telangana government had announced that the last rites of D Ramanaidu would be performed with full state honours. His cremation was held at his studios at 3.45 pm on Thursday. CM K Chandrasekhar Rao had instructed chief secretary Ravjeev Sharma to make all the necessary arrangements.
His funeral procession was aired live on many Telugu TV channels including MAA TV. It was also streamed live on YouTube. You can watch the same in the video below.