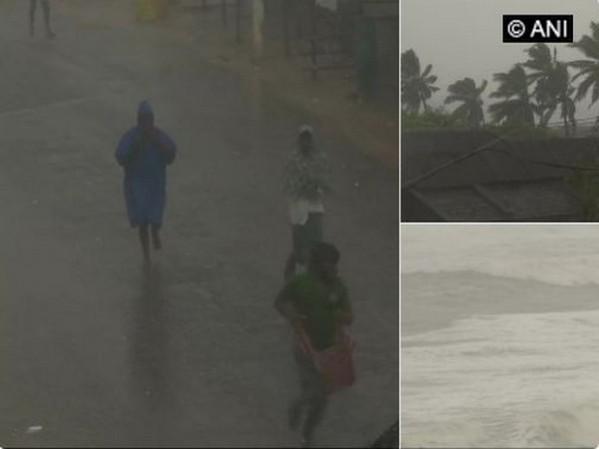 Cyclone Titli made a landfall on Thursday morning near Odisha's Gopalpur district. The winds are reportedly moving at a speed of 126 kmph, resulting in many trees being uprooted in Berhampur that is very close to the point of the landfall.
Many trains, especially the ones travelling along the coasts of in Odisha and Andhra Pradesh were cancelled as a precautionary measure on Wednesday.
The Indian Meteorological Department has upgraded the cyclone as 'very severe'.
Live Updates
Power line cut in Andhra Pradesh
The coastal area of Andhra Pradesh has been completely cut off from the mainland due to cut in the power lines.
Death toll rises to eight in Andhra
Eight people have died as of Thursday afternoon in Srikakulam and Vijayanagaram districts due to Cyclone Titli, reports news agency ANI.
2 dead in Andhra Pradesh due to Cyclone Titli
State Disaster Management Authority (SDMA) said that Titli which caused havoc in Andhra Pradesh's Srikakulam, has left to people dead, according to Deccan Chronicle.
WATCH: Titli in Andhra Pradesh
Cyclone Titli in Srikakulam after it made a landfall
IMD states that Titli will weaken soon
The IMD said that the cyclone is expected to gradually weaken and form a deep depression by Friday morning over the Bay of Bengal.
"It is very likely to move north-westwards for the next 12 hours and then recurve northeastwards towards the Gangetic West Bengal across Odisha," the IMD told ANI.
Cyclone to cross Odisha in 2 hours
The Met Department has said that the cyclone Titli will completely cross Odisha in one or two hours. It would make its way to the north-east part of the country via Kolkata.
Union Minister Dharmendra Pradhan confident that Odisha will get through the crisis
"Government and authorities are on alert. It is the need of the hour for everyone to come forward. I am confident that this crisis will be handled in a proper way with everyone's support," Union Minister Dharmendra Pradhan told ANI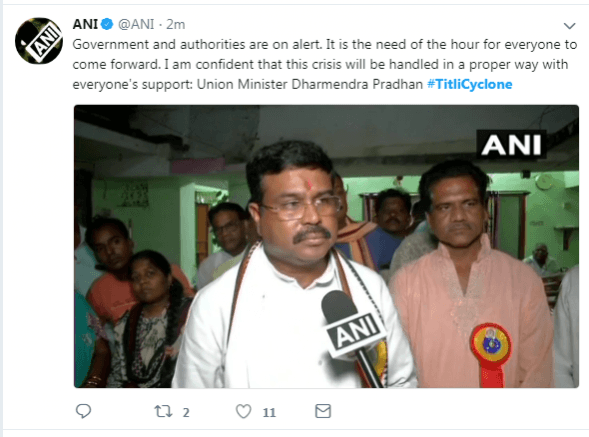 Boat with 5 fishermen capsizes in the sea; Indian Coast Guard managed to rescue all of them
The boat capsized off the Odisha coast while Titli was making the landfall. One of the rescue teams which were deployed to that region managed to make it to the site of the accident on time and rescue all the fishermen.
Precautionary measures set up in Odisha
14 NDRF teams have been deployed in Odisha, according to Republic. Along with this, the Navy and the Army and 300 motor boats are on standby.
836 relief shelters have been set up across the state to house those evacuated due to the cyclone.
WATCH: Tiltli battering Srikakulam in Andhra Pradesh
Residents of Gopalpur evacuated to government relief centres
Around 10,000 residents of Gopalpur, which is close to the point of landfall were evacuated before Thursday morning. They were moved to government shelters where food and relief were provided.
WATCH: Cyclone Titli makes landfall near Odisha's Gopalpur
Cyclone Titli made its landfall at the Odisha coast at 6 am on Thursday morning.