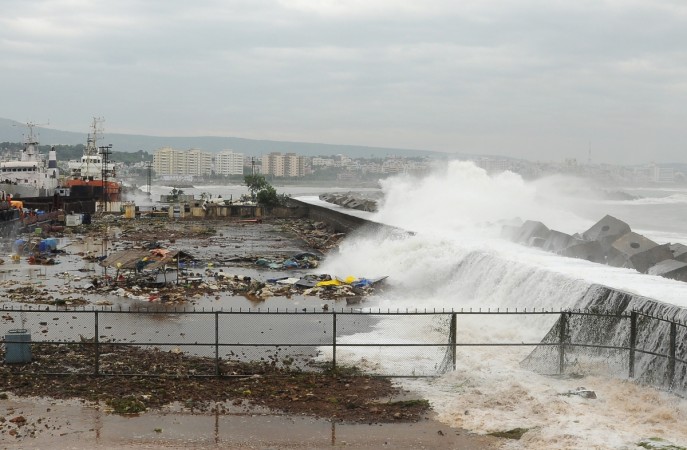 The Indian Meteorological Department on Tuesday, October 9, issued a red alert to the coastal areas of Andhra Pradesh and Odisha as Cyclone Titli is set to intensify in the next 24 hours.
According to IMD, the areas that are likely to face the wrath of the severe cyclonic storm include Puri, Balasore, Gajpati, Ganjam, and Kendrapara.
Fishermen have been asked not to venture out into the sea for the next few days. The IMD has also warned people living in low-lying areas to take preventive measures as there is a risk of trees falling due to wind speeds that could reach 100 kmph.
Live Updates
2018-10-1017:05 (IST)
Train activities temporarily put to a halt along coastal Andhra Pradesh, Uttar Pradesh
The Andhra Pradesh government has banned trains from travelling through Vishakpatnam and Vizianagaram after 10 pm.
In Uttar Pradesh, trains from the Horah/Kharagpur side are also told to stop operating after 5:30 pm.
In the view of #TitliCyclone to affect North Andhra Pradesh&South Odisha coasts, train services between Khurda Road & Vizianagaram will not be allowed after 2200hrs & UP Trains from Howrah/Kharagpur side will not be allowed from Bhadrak after 1715hrs till further notice #Odisha

— ANI (@ANI) October 10, 2018
2018-10-1016:59 (IST)
Odisha govt asks to stop all fishing activities till October 12
The Odisha government has asked the fishermen to cease all fishing activities till October 12 and have advised people to remain indoors, according to Firstpost.
2018-10-1016:05 (IST)
Odisha Chief Secretary Aditya Prasad Padhi talks to the media; Says that officers' leaves have been cancelled
AP Padhi has said that the cyclone has been upgraded to a 'Very Serious Level'. He also added that the residents in low-lying areas have been evacuated to relief shelters where food will be provided.
2018-10-1015:40 (IST)
Cyclone Titli expected to make landfall on Thursday morning
According to the Met department, Cyclone Titli is expected to make a landfall along the Odisha coast at 5:30 am on Thursday morning, Odisha Chief Secretary AP Padhi said.
2018-10-1014:37 (IST)
Odisha CM holds high-level meting
The high-level meeting took place in Bhubaneshwar on Wednesday.
2018-10-1014:23 (IST)
Sudarsan Pattnaik makes sand art, requests people to remain calm
2018-10-1014:21 (IST)
Floods expected in Odisha
Flooding of Rivers Rushikulya and Vamsadhara are expected after the cyclone makes landfall, reports Times of India.
2018-10-1013:30 (IST)
Mizoram, Tripura likely to be affected
The North-east states of Mizoram and Tripura are likely to be affected by Cyclone Titli. The residents of Kolkata will also face difficulties since the cyclone is likely to hit the region as well.
2018-10-1013:27 (IST)
Indian Navy urges fishermen to return to the harbour
The Indian Navy on Tuesday stated that the sea was very rough and warned fishermen to return to the harbours immediately.
2018-10-1013:25 (IST)
Evacuations underway in several areas of Odisha
Residents of Khurda, Ganjam, Puri, and Kendrapada are being evacuated as Cyclone Titli is set to make landfall.
2018-10-1013:23 (IST)
I&B ministry issues list of Do's and Don'ts
2018-10-1013:19 (IST)
Precautionary measures taken to ensure 'zero casualties'
PK Mohapatra, the deputy special relief commissioner, has said that they have deployed 300 motor boats. The NDRF and the Odisha Disaster Rapid Action Force teams are on standby.
2018-10-1013:16 (IST)
Educational institutes closed in Odisha
All educational institutes have been ordered to close till October 11 in Ganjam, Gajapati, Puri and Jagatsinghpur.
2018-10-1013:13 (IST)
Heavy rainfall for the next three days in Odisha
2018-10-1013:13 (IST)
Deep depression over Bay of Bengal has 'intensified' into a cyclone
The deep depression over west central Bay of Bengal intensified into a cyclonic storm 'Titli' at 11:30 hrs today about 530 km southeast of Gopalpur (Odisha) and 480 km east-southeast of Kalingapatnam (Andhra Pradesh): IMD

— ANI (@ANI) October 9, 2018