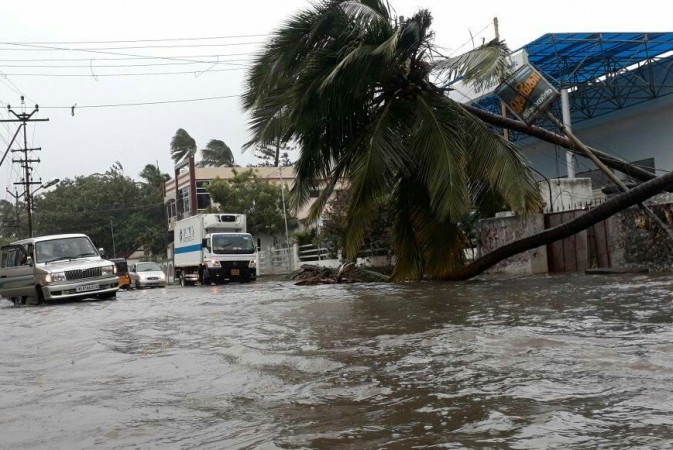 As cyclone Ockhi continues to ravage Tamil Nadu and Kerala on the second day, eight people have lost their lives and more than 100 fishermen and 50 boats have gone missing.
Cyclone Ockhi kills 5 in South India; IMD issues 24-hour rain warning for Tamil Nadu, Kerala
Schools and colleges in Chennai, Kanchipuram, Villupuram, Kanyakumari, Nellai, Theni, Dindigul, Madurai and Thoothukudihave been shut down and the authorities asked people to stay indoors in the wake of torrential rains and gusty winds. The fishermen have been asked not to venture into the sea.
The cyclone which was caused by a deep depression in the Bay of Bengal has already brought heavy downpour to major areas in Tamil Nadu, Kerala and Puducherry.
The India Meteorological Department (IMD) has said that the cyclonic storm is steadily progressing towards South Kerala and adjoining districts of south Tamil Nadu and Lakshadweep Islands.
As per satellite images, Cyclone Ockhi is likely to further intensify into a severe cyclonic storm, Met department added.
Meanwhile, the Indian Navy has deployed five ships from Kochi while two are already on standby in Lakshadweep. Kochi and Tuticorin have also deployed two Indian Coast Guard (ICG) ships.
According to an ANI report, a P8I aircraft, Navy Dornier and Coast Guard Dornier are also airborne for search and rescue along with helicopter with divers.
Trains affected
The rail services have been severely hit and several trains have been cancelled. Train number 56313, 56310, 56386, 56362, 56363, 56389, 16791 and 16792 which were scheduled to depart on Friday morning were cancelled while train number 56305, 56334, 56333, 56309, 56313, 56715 which were to ply on Saturday has also been cancelled.
Meanwhile, an Indian Express report has said that at least seven people are dead and five fishermen have gone missing in Sri Lanka after the cyclonic storm hit the country.