Major areas in Tamil Nadu, Kerala and Puducherry received heavy rainfall on Thursday. Uprooting of trees have so far led to four deaths in Tamil Nadu and one in Kerala, the police said on Thursday evening. The India Meteorological Department (IMD) has declared a high alert in many regions of south India as the Cyclone Ockhi continues to intensify.
The IMD said that the cyclone Okchi is around 70kms away from the Kerala sea coast and is heading towards the Lakshadweep islands. The IMD has predicted that wind speed might go up to 65-75 kmph in south Tamil Nadu and 50-60 kmph in the northern part of the state. Winds between 55 to 75 kmph are likely over south Kerala and the Lakshadweep islands.
Speaking to IBTimes India a Meteorologist K Raja from the Regional Meteorological Department of Chennai said that, "Today afternoon at around 2:30pm the cyclone Ockhi moved at 120kmph west-south-west of Kanyakumari and it will be shifting west-north-west of Lakshadweep by Friday."
Chennai received around 6 cm of rainfall last night leaving many electric poles and trees uprooted.
#CycloneOCKHI over Comorin area moved west-northwestwards with a speed of 20 kmph & lay centred at 1430 hrs;over S.Kerala coast;Lat 7.9º N & Longitude 76.4º E,120 km west-southwest of #Kanyakumari,180 km south-southwest of Thiruvananthapuram & 360 km east-southeast of Minicoy.

— NDMA India (@ndmaindia) November 30, 2017
Destruction by Ockhi, schools to remain shut in TN, Kerala
Heavy rains and high intensity winds in Thoothukudi and Kanyakumari uprooted trees, snapped power lines and damaged settlements close to the sea. Schools in seven districts of the state including Thoothukudi, Tirunelveli, Kanyakumari and Virudhunagar remained closed on Thursday.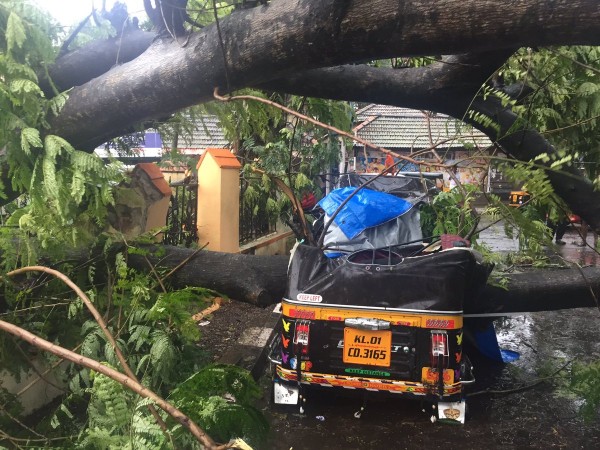 A weather office reported that the sea conditions will worsen in the next 24 hours and the areas in TN and south Kerala are likely to receive heavy rainfall to extremely heavy rainfall.
IMD Director in Chennai, S Balachandran said, "As far as fishermen are concerned those in Kanyakumari, Tuticorin, Rameswaram, have been asked not to venture out into sea till Dec 1 as wind speed will be 65-70 kmph. Sea will be rough."
Sources said that 65 relief camps have been established in Kanyakumari and the fallen trees are being removed by hurricane winds. Also the Courtralam falls in Tamil Nadu's Tirunelveli has gone out of bounds and the authorities have asked the tourists to maintain distance from the region.
Two National Disaster Response Force (NDRF) teams were deployed in the affected areas of Tamil Nadu on Thursday to carry out relief and rescue operations. The TN State Disaster Management Agency (TN SDMA) has advised the people to remain indoors considering the cyclone.
What the weather forecasters say
The IMD has issued warnings in the southern parts of Kerala, Tamil Nadu and Puducherry over Cyclone Ockhi. The IMD director said, "Wednesday's depression has now intensified into deep depression & by 8.30 am today it has formed cyclone because of which for coming 24 hrs both TN & Puducherry to receive moderate rainfall. Kanyakumari, Tirunelveli, Virudhunagar will receive heavy rainfall."
According to Skymet Weather, the cyclone would continue to move in west-­northwest direction towards Lakshadweep islands. The intensifying cyclone also caused rainfall in Bengaluru on Thursday evening.
Advisory against travelling to Kerala and Kanyakumari
A travel advisory has issued an alert to tourists asking them to avoid travelling to the southern coastal belt of Kerala and Kanyakumari. According to latest weather statistics even though Ockhi is moving off Thiruvananthapuram, travelling to Kanyakumari, and Kerala's coastal districts like Thiruvananthapuram, Kollam, Alappuzha, Kottayam, Ernakulam is dangerous as the cyclone might intensify and hit these areas first.
The state authorities in kerala have also asked the pilgrims travelling to Sabarimala, to avoid their journey from 6pm to 7am. The pilgrims have also been warned against sleeping under trees. Reports also said that the schools in Kerala's Thiruvananthipuram and Kollam districts have been asked to remain shut on Friday.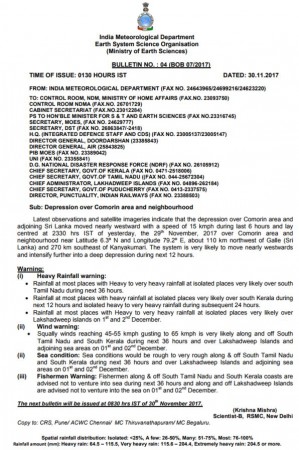 Earlier this month heavy rains lashed Tamil Nadu sparking memories of Cyclone Vardah from last year and the floods of 2015 that killed over 400 people, and caused mass destruction in Chennai and nearby areas.
Fishermen have been advised to stay away from the sea along and off south Tamil Nadu, south Kerala coasts and Lakshadweep islands until December 1. As per the media reports around 200 fishermen have not returned back to the Thiruvananthapuram coast in Kerala and search operations involving Naval forces have been launched.
The District Collector, Trivandrum has requested for assistance from the Southern Naval command in searching six fishing boats with fisherman & one Marine Engineering vessel which went missing near Vizhinjam, due to cyclonic storm developed in southwest parts of Indian Ocean in Kerala. The ANI reported that three ships & two aircrafts have been deployed in the search operation.
Southern Naval Command deployed 3 ships & 2 aircraft following request by District Collector, Trivandrum for assistance in search of 6 fishing boats with fisherman & 1 Marine Engineering vessel missing near Vizhinjam, due to cyclonic storm developed in Indian Ocean off Kerala. pic.twitter.com/2fShFmu1NS

— ANI (@ANI) November 30, 2017
How Ockhi got its name?
World Meteorological Organisation (WMO) and the United Nations Economic and Social Commission for Asia and the Pacific (ESCAP) started naming the tropical cyclones in 2000. The cyclone Ockhi which is lashing the southern India got its name from Bangladesh and the word Ockhi in Bengali means eye.
The Cyclones worldwide are named by 9 regions — North Atlantic, Eastern North Pacific, Central North Pacific, Western North Pacific, North Indian Ocean, South West Indian Ocean, Australian, Southern Pacific, South Atlantic, the Hindu reported.
A group of selected north Indian Ocean countries — Bangladesh, India, the Maldives, Myanmar, Oman, Pakistan, Sri Lanka and Thailand had given a list of eight names each for cyclones which was combined into a list of 64 names.
The cyclones which occur in North Indian Ocean basin are named by the IMD and the first tropical cyclone was named by Bangladesh in 2004 as Onil.
Watch the Skymet weather forecast on the trajectory that cyclone Ockhi is expected to take here: