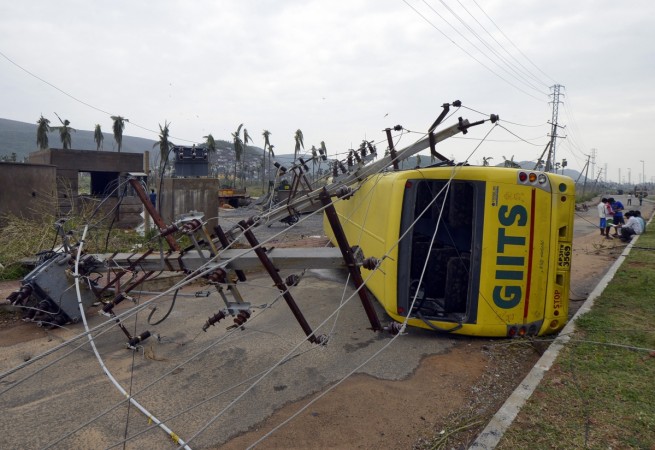 As massive devastation unleashed by Cyclone Hudhud on Sunday unfolded the day after, the death toll rose to 22, with 15 deaths reported in the worst-hit city of Vishakhapatnam, six in Viziyanagaram district and another in Srikakulam.
Vishakhapatnam suffered maximum damage, and the devastation was evident through the uprooted trees, fallen poles and statues. What has further brought life to a halt is the power blackout, and a crunch in essential supplies of food and water. Prices of vegetables and milk have been soaring since the storm struck the region.
US Telugu Group Pledges $1,00,000 for Cyclone-Hit Andhra Pradesh
Here's How You Can Help
Andhra Pradesh Chief Minister Chandrababu Naidu shared information via tweets for those willing to donate or volunteer in the affected regions.
DONATE:
The state government has started an AP CM Relief Fund.
You can donate for relief to Account Name: AP CM Relief Fund, SBI a/c: 33913634404. IFSC Code: SBIN0002724, Branch: SBI Treasury Branch, Gowliguda, Hyderabad.
You can help us and donate for relief to SBI a/c: 33913634404. IFSC Code: SBIN0002724, Branch: SBI Treasury Branch, Gowliguda, Hyderabad.

— N Chandrababu Naidu (@ncbn) October 13, 2014
If you want to send a cheque, send it to Deputy Secretary, Revenue Department, L-Block, AP Secretariat, Hyderabad.
VOLUNTEER: Those looking to volunteer can find more details on the AP Disaster management Facebook page.
Crowdsource Photos:
The AP Disaster Management team is also seeking help of residents who can help them identify locations. If you are in and around the affected regions, you can also crowd source photos using the app: nrsc.gov.in/bhuvanpoi.html (User name/ Password : hudhud123)(File Name:place name, area).
"These pictures will help the us identify the situation by remote sensing the locations with ISRO's satellites. Thus, the help can reach those in needy on right time in the right way," the AP Disaster Management team said on its Facebook page.
Helpline for Relief Operations
NDRF: 011-26107953, 09711077372
Toll free number – 1100
Govt control room numbers - Vizag : 180042500002 Srikakulam : 18004256625 and Vizianagaram - 1070