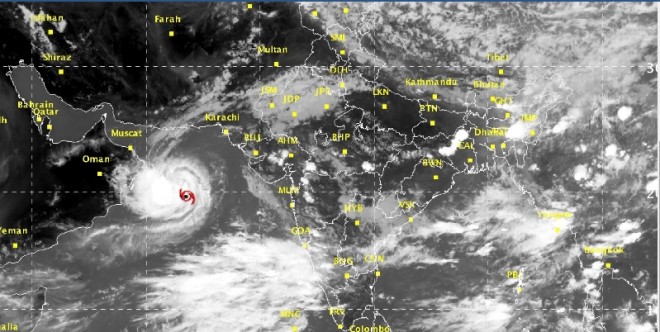 A deep depression in the Arabian Sea has intensified into a cyclonic storm, named Cyclone Ashobaa, and is heading towards the coast of Oman, the India Meteorological Department has said.
The Indian weather department has also forecast that Cyclone Ashobaa will further intensify into a severe cyclonic storm in the next 24 hours.
However, it is likely to cross Oman coast as a cyclonic storm, the IMD said in its press release on Tuesday.
Cyclone Ashobaa is set to bring rainfall in Gujarat, Karnataka and Goa, and the weather department has already warned fishermen that sea that conditions will be very rough on the western coast.
Oman and the UAE are on alert over the weather condition on the Arabian Sea, with weather experts predicting flooding due to heavy rains in some areas.
Pakistan and Iran are also likely to be affected in the coastal regions.
Muscat officials have asked all local departments to be on alert from Wednesday to Saturday as Cyclone Ashobaa approaches, The Times of Oman reported.
The UAE's National Center for Meteorology and Seismology (NCMS) has said that the impact from Cyclone Ashobaa could be felt starting Tuesday itself, according to the Emirates 24/7 News, which cited a local report.
"This will be in the form of active winds on the east coast, leading to the high sea waves, from orbital depth of the tropical strom called 'Ashobaa'," the weather body said.
Pakistan is also bracing for the impact from the cyclone, with the Pakistan Meteorological Department forecasting that waves could reach up to 15-18ft along the Sindh-Makran coast.
The Pakistan weather body has also warned that the heavy rains could bring flash floods in southwest Balochistan.