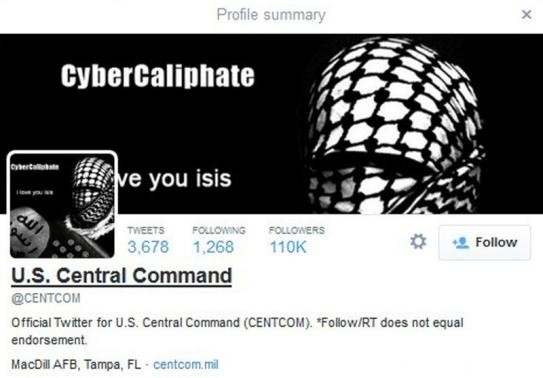 The Twitter and YouTube accounts of the US military Central Command were hacked on Monday by people who claimed to be supporters or sympathisers of the Islamic State or ISIS militant group, who are being targeted by the US-led air-strikes in Syria and Iraq. But experts are now of the opinion that ISIS may not have been behind the hacking, after all.
Although US officials acknowledge that the hacking episode was an embarrassing one, officials were cited by Daily Beast as privately saying that they were skeptical that the hacking was really conducted by ISIS.
"I love you ISIS," the mysterious group claiming to be sympathisers of the jihadists group wrote on the hacked Twitter page. "American soldiers, we are coming, watch your back, ISIS," the hackers posted on the US Central Command Twitter feed.
Col Steve Warren, a Pentagon spokesman, told the publication that the hacking appeared to be a "cyber prank" and the attack actually did not compromise defense department classified information.
Here are a few pointers that suggest that the jihadists group may not have been behind the hacking:
The fact that they used the acronym 'ISIS' while referring to themselves has raised quite a few eyebrows and intensified doubts if the group, in fact, was involved. The statement "I love you ISIS" seems to indicate that those responsible for hacking had allegiance to the group. Notably, the members or supporters of the group do not refer to their own group as 'ISIS' or 'ISIL'. The name is used only by media and the Western allies while referring to the hardliner Sunni militant group.
Interesting. I doubt they are ISIS... ISIS never calls themselves ISIS. "@ianbremmer: ISIS hacks @Centcom account. pic.twitter.com/EZqNvE6L3y"

— Ali H. Soufan (@Ali_H_Soufan) January 12, 2015
Also, what has surprised many is the fact that one of the seven Twitter accounts the group appeared to follow was the "Andrew Jackson Jihad", a folk punk band from the American Southwest, reporter Jacob Siegel pointed in a tweet:
With a better screenshot, the group behind CENTCOM hack 'liking' southwest folk-punk band Andrew Jackson Jihad pic.twitter.com/ca6CsJLTtf — Jacob Siegel (@Jacob__Siegel) January 12, 2015
It can be further be noted that if ISIS was indeed behind the attack, the group wouldn't shy away from leaking secret information of the US government. But many of the documents they shared appeared to be "public records, including transcripts of congressional testimony" and other documents that are "readily available on the Defense Department's website," The New York Times reported.