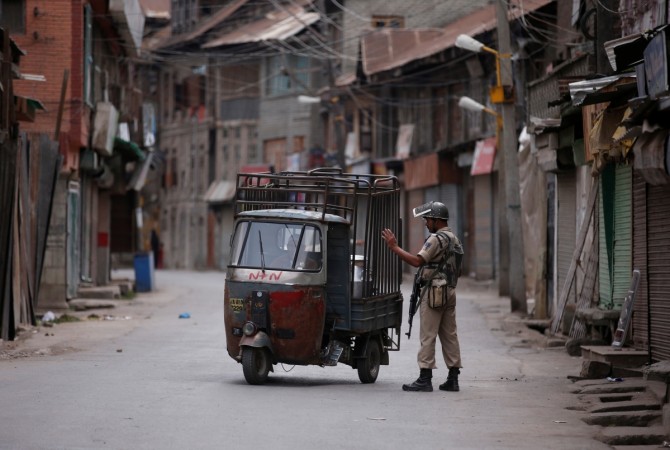 Local authorities in Kashmir said on Sunday that curfew will be extended until Friday, August 5. The separatists have extended their protest shutdown for the coming week.
A senior police officer, as reported by IANS, said that the curfew will remain in force in Kulgam, Pulwama, Shopian town and other areas. In other parts of the valley, like the old areas, some restrictions will remain.
He said the local security forces were handling the situation well. "Force is only used to prevent large scale violence and destruction of public property by anti-social elements."
Hundreds of candidates who will appear for the Common Entrance Test (CET) reached Srinagar on Sunday morning. The CET exam is held for securing admission to MBBS courses in colleges across the state. It is conducted by the board of professional entrance examinations in J&K.
The board has reportedly shifted the examination centres from the old city of Srinagar city to safer areas of the city. "No untoward incident has taken place anywhere during the passage of the candidates from various district headquarters to Srinagar," senior officials told the news agency.
The separatists are believed to have issued a new protest calendar, which would extend the ongoing shutdown until next Friday. The people have been asked to resume normal activities after 1800 hrs every day until August 5.
Last week, curfew and restrictions were imposed in several districts of South Kashmir and in a few areas of Srinagar. The situations on the ground continues to remain tense due to clashes between protesters and security forces last Tuesday. This is despite the curfew being lifted earlier.
The valley was under curfew for more than 20 days after unrest grew over the killing of top commander of Hizbul Mujahideen outfit, Burhan Wani. Nearly 50 people were killed in the clashes between protesters and security forces and 3,000 people were injured.