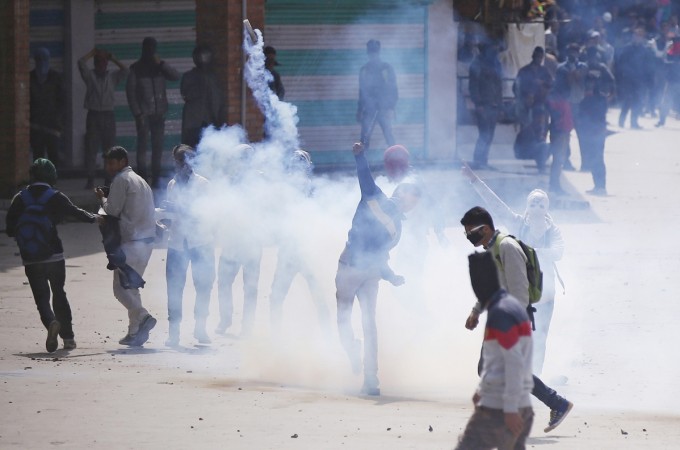 The Jammu and Kashmir government reportedly imposed a curfew in downtown Srinagar city and Handwara town of Kashmir after the army allegedly killed three people during civilian protests Tuesday.
Chief Minister Mehbooba Mufti has described the killings as unfortunate. Mufti said she has spoken to Union Defence Minister Manohar Parrikar about the issue, ANI reported.
"The Defence Minister has assured me that an inquiry will be conducted," the J&K chief minister said. She further said that she has spoken to Jammu-based Northern Army Commander DS Hooda, regarding the Handwara incident.
Mufti said the security personnel involved in the killing of two youths in Handwara will be handed exemplary punishment, adding such incidents cannot be tolerated, according to the Times of India.
The clashes between the locals and security forces began Tuesday, after rumours of molestation of a local girl spread in the Handwara town of North Kashmir.
Two youths Muhammad Iqbal and Nayeem Bhat were killed when the army opened fire to disperse stone-pelting mob, protesting against the alleged molestation of a girl.
Raja Begum, 54, who was injured during the clashes, died Wednesday at Sher-e-Kashmir Institute of Medical sciences (SKIMS), Srinagar.
Meanwhile, District Magistrate, Srinagar, Farooq Ahmad Lone ordered restrictions in six police station areas of Rainawari, Nowhatta, Khanyar, MR Gunj, Safa Kadal and Maisuma in Srinagar city. The Sikh community of Kashmir has however been allowed to move about because of Baisakhi celebrations.
An army spokesman, while giving the details of the incident, said that the protesting crowd gathered near the Army bunker in Handwara and attacked it, the Times of India reported.
"They assaulted the personnel deployed there, ransacked the bunker and attempted to set fire to the bunker, he said. He added that in retaliation, the security forces deployed used force to disperse the mob, which resulted in the killing of the two youths.
The police spokesman said a criminal case has been registered in the Handwara incident and investigations have started to ascertain the facts.