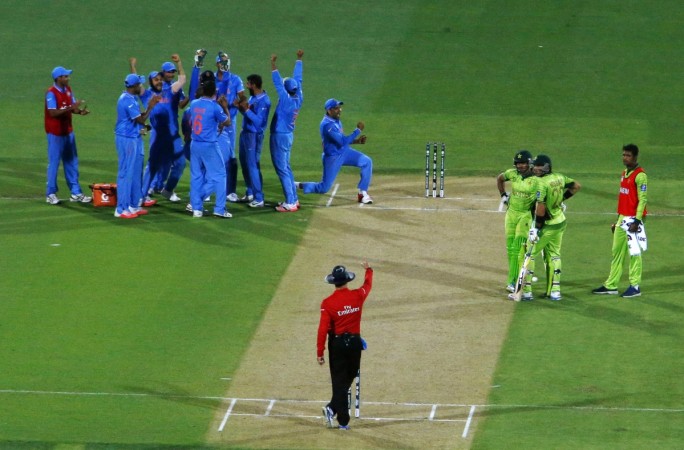 Pakistan Cricket Board (PCB) Chairman and Board of Control for Cricket in India (BCCI) want to see both their nations fight it out in a cricket field. They are expected to play three Tests, five ODIs and two T20s.
But the proposed tie between the two South Asian neighbours in UAE in December seems to have hit a roadblock with broadcast rights in question.
It is Ten Sports, which holds the rights to broadcast matches hosted by PCB, but the BCCI might decide to pull out if the series is aired on Ten Sports.
"Our stand is quite clear. We will not play the series if Ten Sports is the broadcaster," Indian Express quoted a senior BCCI official, who wished to remain anonymous.
As Ten Sports is said to be owned by Subhash Chandra, who is also planning to start an unofficial cricket T20 league, BCCI is not happy with it and things do not look bright.
Chandra does not enjoy a healthy relationship with the BCCI and especially with BCCI chairman Jagmohan Dalmiya against whom Chandra filed a police complaint for threatening to ruin his life some years ago.
Under such circumstances, India-Pakistan series might not come to fruition. Things do not look in great shape for an Indo-Pak series if both BCCI and PCB do not come up with an alternate option.
Will Pakistan do away with Ten Sports to host India?
It seems to be a major problem for Pakistan, who recently sold its broadcast rights to Ten Network.
Shahryar Khan, PCB chairman feels it is going to be legal problem if they allow some other channels to broadcast the match. To sort this out, the administrator is in New Delhi at present.
"Ten Sports offered us $60 million more and won the rights in the most transparent manner. Now, if we let some other network telecast the matches we will be inviting a legal problem," Indian Express quoted Shahryar Khan as saying.
There are reports that suggest that the BCCI wants the series to be hosted in India, which could solve the problem, but in this case, BCCI will also make some money from broadcast rights.
Will PCB be up for it?
"Why should we do that? We all know that India-Pakistan matches are the most lucrative of all the cricket matches. As it is, the Indian board is quite rich. Why should we compromise with our opportunity to make some money," said a senior PCB member, who wished to remain anonymous.