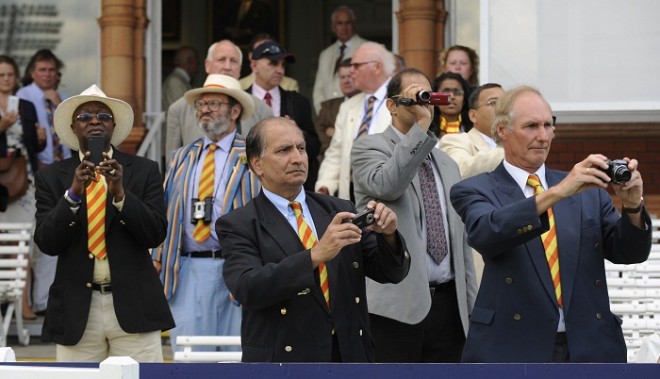 There have been a number of instances when cricketers cross their line and bring the game to disrepute on the field. When the sledging gets out of hand, umpires are forced to put a stop to it, and now the Marylebone Cricket Club (MCC) wants to give these umpires some extra power. Taking a leaf out of football, the MCC are planning on giving the umpires power to show red cards, which will ban the player from further participation in the match.
The umpires, under the new MCC proposal, can also suspend the player for 10 overs and send them to the sin-bin for threatening or intimidating behaviour, similar to the ploy used in rugby.
"The issuing of red and yellow cards would be a major step for cricket and not one we will commit ourselves to now," Fraser Stewart, the head of laws at MCC was quoted as saying in The Telegraph UK.
The MCC have decided to take such measures after some matches in the UK had to be abandoned due to violence. However, the MCC does not want to implement such policies in county cricket yet, but they are keen to try it out at university and school level cricket in the UK.
"We know anecdotally that player behaviour seems to be on the wane in cricket, certainly in this country (the UK)," Stewart said.
"Statistics from leagues show there are increased numbers of players being reported. Last summer, five games had to be abandoned due to varying degrees of violence. That is an increase, for sure. It was felt that now was a good time to review this whole area and perhaps try and find leagues, competitions and schools willing to trial means that act as a deterrent."
The umpires, at present, do not have the power to take immediate action against players, who go over the line, apart from giving them a stern word. But with the new MCC proposal, they do not have to wait to file a report after the match, as they can take action immediately.
"Following a global consultation in 2015, the majority of umpires felt they would be better able to control player behaviour if they had more power to deal with the problem during the game, rather than through a reporting procedure afterwards," Stewart said.
"The benefit of this is that the offence has a consequence in that particular game, rather than in the following weeks, or the following season."