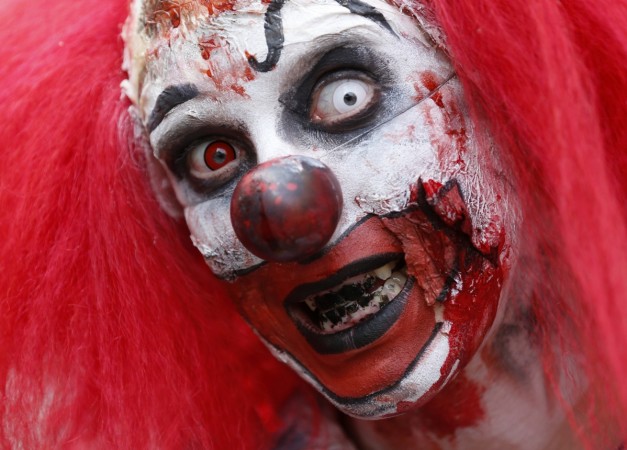 There is still time for Halloween, but creepy clowns are haunting children in the U.S. Reports of creepy clowns lurking in the woods of cities of North Carolina and South Carolina have kicked up a storm among the residents.
The creepy clown sighting was first reported in mid-August and since then multiple sightings of clowns with white-painted faces were reported in the Carolinas. According to the residents, these clowns are luring kids into the woods with money.
"If this is a hoax or publicity stunt it is not funny," Greensboro police spokeswoman Susan Danielsen told People. "It is alarming to the public and a drain on police resources. We just don't know at this point, because we haven't had the chance to interview any clowns."
On Tuesday, a man saw a clown with a scary mask, red curly wig, yellow dotted shirt, blue clown pants and clown shoes in an apartment complex in Greensboro, North Carolina. The man chased the clown into the woods, but the clown disappeared from his sight, People reported quoting the police.
"We don't know why he was there or what he was doing there," Danielsen said adding that officers checked the area, but could not find anything suspicious.
According to the report, several children have heard clowns making noises in the woods.
"There has been a couple of people that have seen them. Mainly it has been children who have reported they have seen these clowns in the woods. Every time we have gone out there we have not seen any clowns," Master Deputy Drew Pinciaro of the Greenville County Sheriff's Office told People.
Several reports suggest that the creepy clown sighting could be a hoax or a publicity stunt to promote a Rob Zombie movie that features a killer clown. However, the company distributing the movie said in a statement that they are not associated with the creepy clowns and the costume characters lurking in the woods.