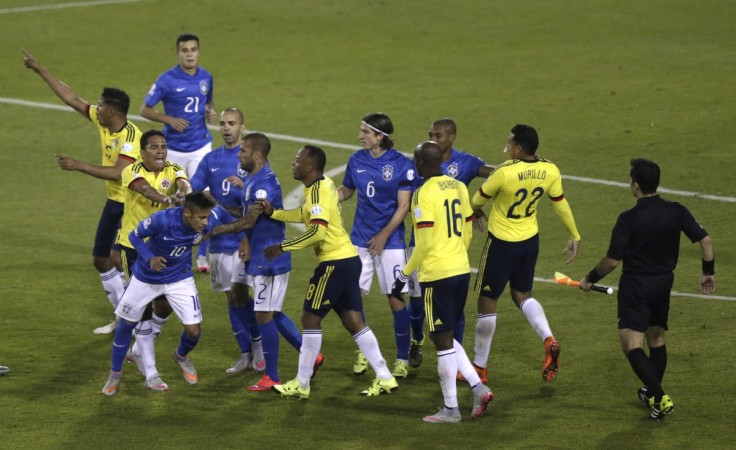 After a surprise defeat to Venezuela in their first match of Copa America 2015, Colombia were required to defeat Brazil to have any chance of progressing into the knockout stages of the competition.
They did just that, as Colombia stood tall against title favourites Brazil, who despite getting a fair shot at goal could not find the back of the net. Colombia defender Jeison Murillo scored the winner in the 36th minute of the game.
Colombia held onto the lead and came up with a shock win with a scoreline reading 1-0. With this victory, Colombia have defeated Brazil after 24 years, which is a huge achievement in itself considering Brazil are on a purple patch after Dunga replaced Luis Felipe Scolari as the coach of the Brazilian team.
The game brought back memories of their World Cup clash last year, which saw some big physical battles between the two sides. Once again, these two sides took an aggressive approach, which was evident from the 39 fouls during the game.
Brazil tried to find an equaliser, but they failed to find parity with their prolific striker, Neymar having an off day. Neymar seemed to have worn the wrong boots as he missed chances which he regularly buries for his club Barcelona.
Neymar was increasingly getting frustrated during the game, and it spilled over at the final whistle as he was awarded a straight red card for striking the ball at Colombia player Pablo Armero and also for a light headbutt on goalscorer Murillo.
This was not what one expected from the Brazilian forward and the Colombians, primarily Carlos Bacca, reacted, with a scuffle eventually breaking out on the pitch.
Players had to rush in and calm down Bacca. Both Neymar and Bacca were shown red cards.
Dunga stated that during the game his players were not able to play football, as they were caught in provocations.
"Colombia showed that they are a very experienced team," ESPN quoted Brazil coach Dunga as saying. "Our players at times got caught in their provocations and forgot to play football.
"Brazil have to play football. Brazil can't go to war, we have to focus on what we do best, which is play football."
With this victory, the pool has been thrown wide open as Venezuela, Brazil and Colombia have three points each.
If Venezuela defeat Peru tonight, they might inch closer to the knockout stages with 6 points.