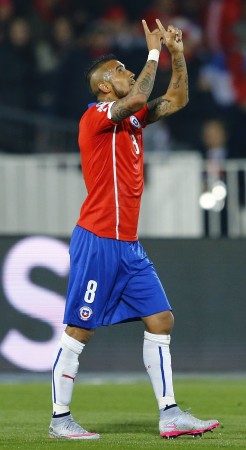 Chile's star player Atruro Vidal suffered a major scare as he crashed his red Ferrari car outside Santiago. Vidal was travelling home from a casino along with his wife Maria Teresa Matusa. Luckily, neither of them suffered any major injury.
After the accident, Vidal and Teresa Matusa were taken to the Buin hospital, where it was found that Vidal had a slight bruise on his neck.
The Mirror reported that Vidal lost control of his car on the highway and crashed, causing damages to the front part of the vehicle.
From the images released, the crash looks pretty horrific.
But it was a huge relief for Chilean fans as Vidal only received minor injuries. Had it been a serious case, the midfielder could have missed Copa America matches.
Vidal was said to be under the influence of alcohol when the accident took place and hence, has been arrested.
"The driver of the red vehicle (Vidal's Ferrari) was under the influence of alcohol," Fox Sports quoted Chilean national police Colonel Ricardo Gonzalez as saying.
Vidal has been one of the best players in the ongoing Copa America 2015, where he has already scored three times for his national side, Chile.