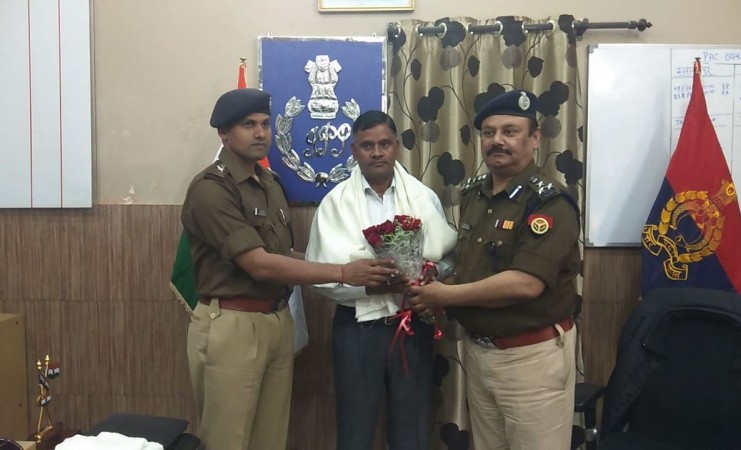 In an incident that will melt even the most stone-hearted person, a cop in Uttar Pradesh chose his duty over a family emergency and saved a dying man.
Head constable Bhupendra Tomar was on patrolling duty on February 23 morning with his team in the 100 Quick Response vehicle when he received a call about a man who had been stabbed multiple times and was lying on the road in Badagaon.
Just when the team was rushing to the spot to save the man, he received a call from home, which left him with the toughest choice he will probably face in life.
Tomar's daughter Jyoti had suddenly collapsed and died. While his team urged him to go home and assured him that they would take care of the stabbed man, he refused and chose to complete his duty, before heading home to his bereaved family, reported the Times of India.
And the effort and courage did pay off as the man, a veterinarian, was saved and thanked Tomar for it. Speaking of it, Tomar told TOI: "I got a call saying Jyoti had died. But we were already on our way to the site of the attack at Sirsiri village on Rampur Maniharan-Badagaon road. I knew I had to save the injured man.
"Leave the dead behind and save those alive is the credo that I follow. I don't think I have done anything exceptional."
Jyoti, 27, worked at a primary health centre in Meerut and had married Saurabh Kakraan in 2017.
Tomar's dedication has been lauded by several senior officers in the state and he was also honored by Saharanpur deputy inspector general of police Sharad Sachan, and senior superintendent of police, Saharanpur, Babloo Kumar. Not just that, he will also be felicitated in Lucknow on Friday, March 2.
Director general of police, O P Singh, also spoke to Tomar and said that the police force would help the family in every way possible. "I am overwhelmed by the way in which the police department has stood by us through thick and thin," Tomar said. "All my seniors have been extremely helpful to us."