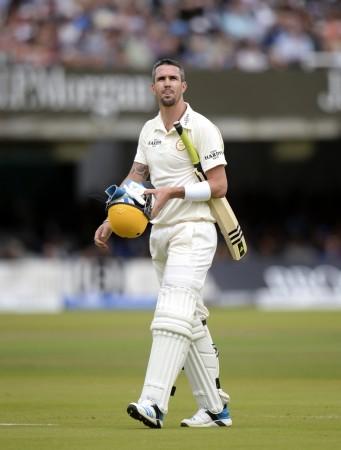 One of the most dangerous batsmen in the game, Kevin Pietersen was sacked by England in February 2014 and has hence not played for his country ever since.
But, the player feels that he can still play for England. He has not given up hope, though he fails to understand the reason for his sacking.
The dashing English batsman is currently representing Melbourne Stars in the Big Bash League in Australia.
While co-commentating with Ricky Ponting in one of the matches, Kevin Pietersen said, "I was sacked... I don't know why I'm not playing for England. I haven't got a clue.
"Never [have I been given a reason]. They're not allowed to -- for legal reasons, they probably weren't allowed to, and they still haven't embellished on anything.
"[But] I know that the current captain [Eoin Morgan] would love to have me in the England team."
Morgan is the current captain of the England team, with the Irishman set to captain his side in the upcoming Tri-Series in Australia, which also involved India, along with the ICC World Cup in Australia and New Zealand.
In the past, Morgan is said to have spoken in defence of Kevin Pietersen as well.
Pietersen, when asked if Morgan would welcome him back, said: "I don't see why not, I'm hitting it okay and I get along pretty well with most of the guys in there, if not all of them, so yeah, I don't see why not."
One thing is for certain -- the player was not sacked for cricketing reasons, as he has been one of the finest cricketers the for England.
He has scored more than 8000 runs, while representing England more than 100 times in Test cricket. His ODI record reflects well as well with more than 4000 runs to his name.
His presence on the crease instilled fear amongst the bowlers, mainly because his ferocious hitting power stood next to none.
Despite having such great stats, it seems to be a distant dream for Pietersen to make it to England's team.
Former England fast bowler Steve Harmison believes there is no way that he can be called back by the England Cricket Board.
"I would be very, very surprised if Kevin gets anywhere near the England cricket team again," Harmison told BBC Radio 5 Live.
"Even though I think the world of Kevin and he is a fantastic player, he can start making noises and scoring runs but the reality is there are too many people involved with this decision to sack Kevin."