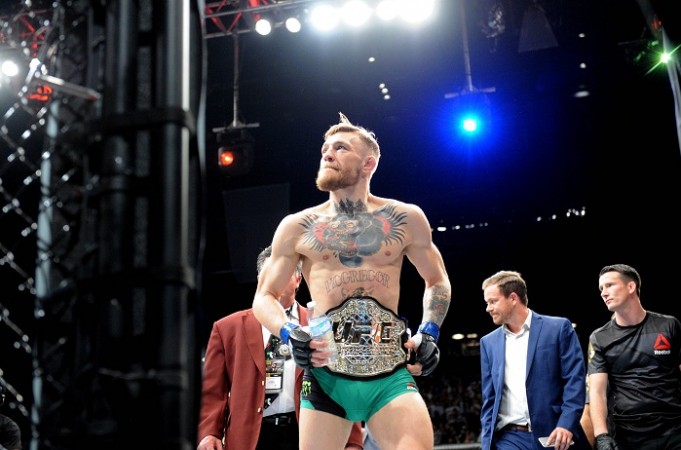 UFC star Conor McGregor and undefeated boxing legend Floyd Mayweather have been in talks about squaring off inside the boxing ring for quite a long time now. The two fighters have been having a war of words over social media for months now as talks of the two of them facing each other kept intensifying.
The first ever hint that McGregor and Mayweather could actually fight inside the boxing ring was in November of last year when the Irishman obtained his boxing license in California. After that things boiled down a little for the rest of the year with rumours coming up about how much money each fighter wanted and a lot of trash talking between the two.
Also read: Conor McGregor vows to shock boxing world as fight with Floyd Mayweather edges closer
Then in March 2017, people started taking this potential super fight a little more seriously when Mayweather announced during his UK tour that he was officially out of retirement just to fight McGregor. Reports then followed saying that the T-Mobile Arena in Las Vegas was booked for their fight and while there was no official confirmation, a lot has happened since then.
Take a look at Conor McGregor training for his boxing match against Floyd Mayweather
UFC president Dana White initially said that McGregor's next fight would definitely be inside the octagon where he would defend his UFC lightweight title as opposed to what McGregor said. The Irishman said that he was determined to fight Mayweather and was confident that his next fight would definitely be inside the boxing ring.
Since then, White himself has backed the potential boxing match saying that he will not stand in the way should the two reach an agreement. Reports say that money is one of the main reasons the fight has been taking so long to materialise. Mayweather is reportedly guaranteed $100 million and McGregor is expected to get much less along with a part of the pay per view.
Should this mega money super fight actually take place, it is expected to shatter the pay per view record set by the Mayweather vs Manny Pacquiao bout. Even though McGregor will make a lot less than Mayweather, he is expected to earn a lot more than he will earn at the UFC.
Things have been really quite in the last few days regarding their fight since White said that the UFC do not guarantee 80 percent of McGregor's purse. But the UFC lightweight champion recently posted a video on Instagram saying that his next fight will be 'announced very soon,' sparking rumours a date with Mayweather has finally been finalised.