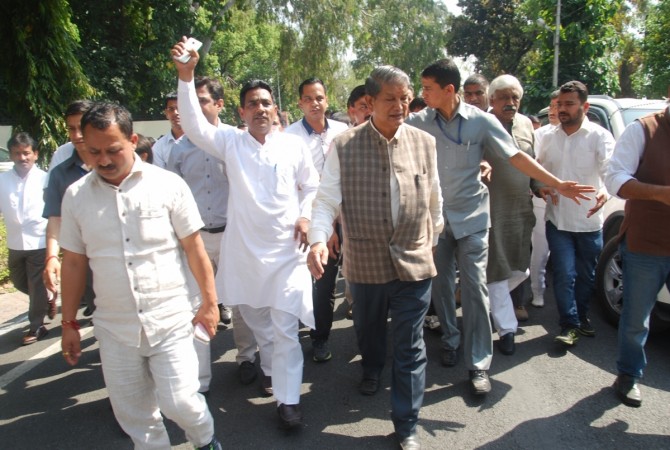 Attorney General Mukul Rohatgi reportedly told the Supreme Court on Wednesday that the Congress had won the floor test with 33 votes. The trust vote was held in the Uttarakhand Assembly on Tuesday to allow ousted chief minister Harish Rawat to prove his majority in the house.
The Centre has told the Supreme Court it will revoke President's rule imposed on the state since March 27. The result comes as a major setback to the BJP, which was accused of toppling the Congress government in Uttarakhand.
The trust vote was held on Tuesday afternoon under the strict guidelines of the Supreme Court. The apex court was handed over the result.
Soon after the floor test, a journalist with the Hindu tweeted, citing her sources, that Rawat had won the floor test.
Rawat's colleagues also reportedly said the Congress had already won the floor test with 33 votes, two more than the required number of votes needed to prove majority in the house.
"Rawatji won't say anything but we are party workers and we are excited. We had 33 votes, the BJP got 28," the Indian Express quoted Congress MLA from Nainital Sarita Arya as saying.
The Congress is now considering to hold the Assembly elections, scheduled to be held early next year, as early as possible. The party will take the final call after Rawat's swearing-in ceremony.
"After what the BJP did to topple our government, it is best not to take chances. We'll first gauge the extent of sympathy for Mr. Rawat before taking a decision," a senior leader told the Hindu.
The Rawat government was ousted after rebellion by nine Congress MLAs that led to a political crisis in Uttarakhand. Both the BJP and the Congress approached the Supreme Court when the tensions in the state politics escalated in the following days. The Supreme Court then ordered a floor test under its supervision.
Centre tells SC, we will revoke President's rule in #Uttarakhand.

— ANI (@ANI_news) May 11, 2016