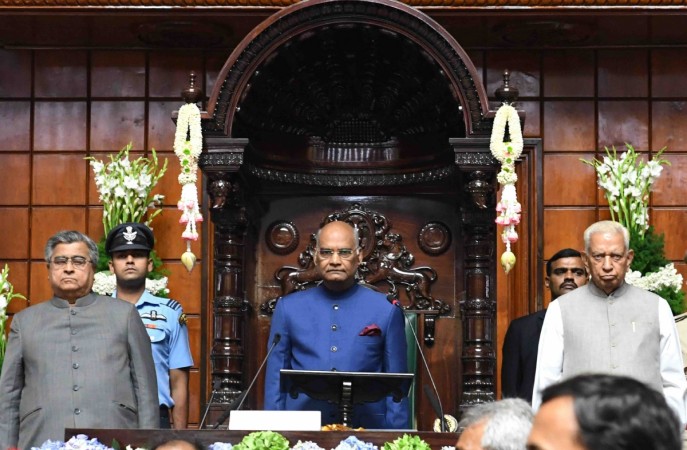 After a recent controversy over the refusal by a few BJP leaders to attend the celebrations of Tipu Jayanti on November 10, President Ram Nath Kovind has now been dragged into the war of words between the BJP and the Congress in Karnataka. State BJP leaders are apparently unhappy with the praise of the 18th century ruler in the President's address to the joint session in Vidhana Soudha on Wednesday, October 25.
In an attempt to disown the President's words on Tipu Sultan, the BJP leaders have gone to such an extent that they even alleged that the speech was written by Congress!
President Kovind was in Bangalore to observe the 60th anniversary of the state legislature Vidhana Soudha as he praised the valour of the 18th century ruler, Tipu Sultan.
"Tipu Sultan died a heroic death fighting the British. He was also a pioneer in the development and use of Mysore rockets in warfare. This technology was later adopted by the Europeans," Kovind said as he addressed a joint session in Vidhana Soudha.
What seems to be a complete bizarre statement, the state's BJP leaders have alleged that the words of President Kovind were penned by the Congress.
Eshwarappa, the leader of opposition in Karnataka Assembly, alleged that "they (Congress) have misused the President's office by involving Tipu's name in the President's speech."
"I condemn it, it's an insult done to people of Karnataka by the state government. If we had raised objections when president mentioned Tipu, it would have led to violation of protocol...," the BJP leader added.
Another BJP legislator, Arvind Limbavali was quoted by NDTV saying, "They have invited him and they have prepared the speech also. This is an election year. They want to make it big event and they have taken the opportunity of the President's visit also and they have made the mention of Tipu Sultan in his speech, through the President."
Dinesh Gundu Rao, Congress state working president, condemned BJP's statements and said, "such allegations show the state of mind the BJP leaders are in."
Meanwhile, Chief Minister Siddaramaiah conveyed his heartfelt thanks to the President for his presence on the occasion, in a tweet, "Congratulations to Hon. President of India Shri Ram Nath Kovind for a statesman like address to the Karnataka legislature @rashtrapatibhvn," the tweet read.
Earlier in October, BJP leader, Ananth Kumar Hegde's comments courted controversy after he called the Mysore leader a brutal killer and a mass rapist. Hegde said these words in his letter to Karnataka chief minister's office asking for excluding his name from the invitees list of Tipu Jayanti.
The state of Karnataka has witnessed protests after the Congress decided to celebrate November 10th in the name of the Mysore king, Tipu Sultan, in 2015.