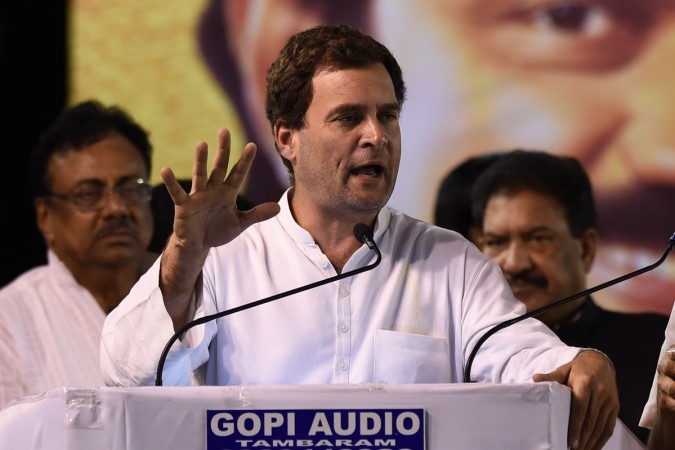 Prime Minister Narendra Modi sacrificed the common man in his "yagna" against corruption when he decided to demonetise the Rs 500 and Rs. 1,000 notes on November 8, said Congress vice president Rahul Gandhi during the 132nd foundation day celebrations of the Indian National Congress on Wednesday in New Delhi. He added that farmers should be given bonus at 20 percent of market selling price (MSP).
Read more: More divisions within Opposition as CPI-M pulls out of all-party meet called by Rahul Gandhi
"What is the Congress?. It means listening to you, understanding others. It made us understand the meaning of freedom," said Rahul Gandhi. "Modi ji said that he was performing a 'yagna' against corruption on November 8. Demonetisation yagna was being performed for 1 percent super-rich ppl. Every yagna requires a sacrifice and in this one the common man was sacrificed," Gandhi said.
He quoted Urdu poet Allama Iqbal saying that there's a long battle ahead of them.
"The demonetisation decision has been taken to benefit only 50 families," said Rahul Gandhi. He also told the party workers to pull up their socks to take on the divisive ideology of RSS and BJP.
"Many people have suffered and for this loss government should give compensation. PM Modi should reveal how much black money recovered post Nov 8, how much economic loss nation suffered and how many people lost their lives. PM Modi should reveal the list of people who deposited more than Rs 25 lakh in their bank accounts two months before November 8," he said.
"Restrictions on withdrawals must be lifted now. It is taking away the financial independence of the people. PM must explain how he will he compensate farmers who are affected the most by demonetisation. We demand their loans be waived off. PM should give bonus at 20 percent of MSP. He should give women frm BPL families Rs 25,000 each," he added.
On Twitter, the Indian National Congress wished all its party workers who have worked for them whether they were a part during the Independence struggle or now.
Some supporters and well-wishers also took to Twitter to wish India's Grand Old Party.
"Greetings to all my fellow Congress workers on the 132nd Foundation Day. May we continue defending the Idea of India," tweeted Hasiba B. Amin, current National General Secretary of NSUI.
"Congress party stands for poor people, farmers, workers for betterment..today we celebrate 132nd Foundation Day of Indian National Congress," said another Twitter user.
The first session of the party was on December 28 1885, where 72 social reformers, journalists and lawyers congregated for the first session of the Indian National Union at Gokuldas Tejpal Sanskrit College, Bombay. The conference was later renamed as the Indian National Congress. By the second session a year later, the number of members had increased to 434.
The party had a pivotal role in the Independence struggle and first prime minister Jawaharlal Nehru, Rahul Gandhi's grandfather, was also a Congress member.