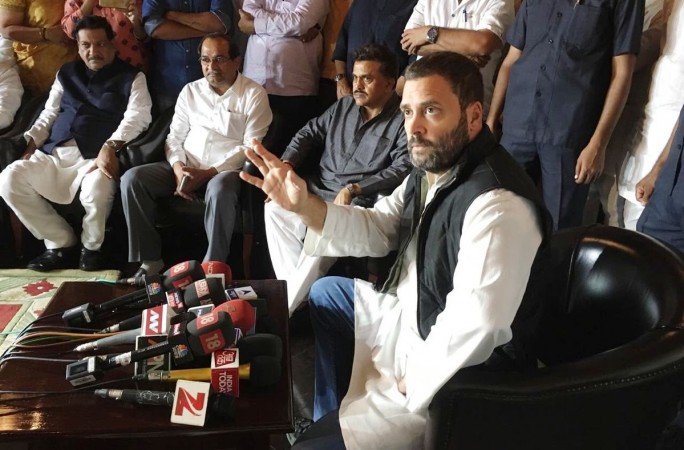 Congress vice-president Rahul Gandhi on Wednesday managed to raise quite a few eyebrows — and inappropriately the humour quotient — at a rally organised to highlight the reported sufferings of people, in Delhi.
His attack on the BJP and Prime Minister Narendra Modi included the former Gujarat chief minister's yoga poses, shaky understanding of automobile sales figures and "friends in the media" had us chortling throughout the speech at the Jan Vedna Sammelan on Wednesday.
Here is the list of five of his comments in the speech that made us sit up and ask: "Is this guy for real?"
1. "Modi did a lot of yoga, but did not do Padmasana. My yoga guru says whoever does not do yoga regularly cannot do Padmasana.": For starters, why is Rahul attacking Modi for his yoga? Is that even a governance issue? And yoga experts otherwise assert that anyone who is not too flexible cannot perform Padmasana, but that does not mean they cannot do yoga. So either Rahul heard wrong, or it is time to fire this yoga teacher. It's time to fire the Congress' political researcher too, because here is a photo of Modi doing Padmasana!
2. "The automobile sector has seen a drop of 60 percent in sales. We have gone back 16 years.": Clearly, Rahul Gandhi's researchers have little knowledge of economics as well. True, that demonetisation has hit automobile sales, but that was a year-on-year drop of 18.6 percent for the month of December. And no, vehicle sales have not dropped to where they were 16 years ago. It's just that the drop was the largest in 16 years.
3. "This is the first time in history that the prime minister of India is being ridiculed.": The Congress vice-president may be suffering from some form of amnesia here. Otherwise, Congress supporters and activists still wince at the manner in which Manmohan Singh's "Theek Hai" — at the end of his speech following the outrage over the December 16, 2012, gang-rape — was ridiculed and turned into a meme.
And that was not the only time Singh was ridiculed. Many insinuated that he had become a puppet at the hands of Congress president and Rahul's mother Sonia Gandhi. And we are not even going into previous Congress prime ministers being ridiculed, like the cartoon that famously showed Rahul's father Rajiv Gandhi's face turning into the Bofors gun.
4. "Our friends in the media are under constraints. They come to me and say they want to say something but can't.": No self-respecting news outlet will mooch up to a top political party and complain about a rival. If there were truly constraints, they came during the Emergency era under then prime minister and Rahul Gandhi's grandmother, Indira Gandhi, who often put journalists in prison for writing against her!
5. "Modi stopped the respect we gave to the judiciary and the press and other institutions that we gave for 70 years.": Again, the Emergency era saw each and every one of these institutions more or less muzzled. Famously, eminent journalist Ramnath Goenka published a blank editorial in the newspaper he edited back then in protest against the aforementioned muzzling by Indira Gandhi!
And this is the man the Congress wants to be its next president after Sonia Gandhi!