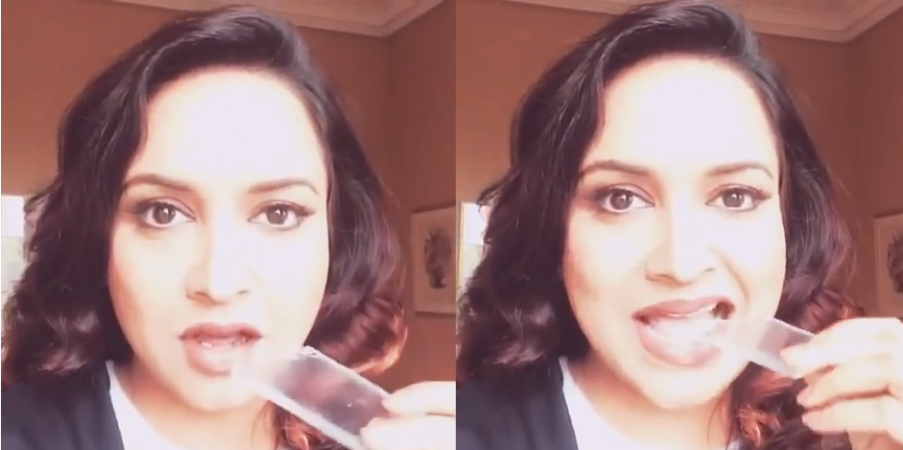 Ever since Malayalam actress Lena posted a video of her "eating glass" on her Instagram account lenasmagazine, it has gone viral on social media, with netizens being confused whether it is real or fake. While some believe it to be actual glass, there are many others who claim it to be something else.
However, soon after the video was posted online, hilarious memes on Lena have been surfacing online. On Tuesday, May 16, the Vikramadithyan actress shared her photo with the caption: "Be an 'encourager'.... the world has enough critics already [sic]." And when a netizen asked her if the viral video of her is genuine or not, the actress cleared the rumours by clarifying that it is wax, and not glass, on the comment section of the recent post.
"It was just a joke. It is not glass.. just wax [sic]," the actress commented on her Facebook page.
This is the Facebook comment of Lena:
However, looks like very few have only noticed the actress' recent comment as many are still confused on the authenticity of the video. At the time of reporting, the viral video has been viewed over 39,000 times on her Instagram account, and has also been shared on different Facebook and YouTube accounts.
Meanwhile, on the career front, Lena, who was recently seen in Avarude Raavukal and Honey Bee 2, has handful of projects lined up for the year, including Tamil and Telugu projects as well.
Watch the viral video of Lena here:
Check out the funny memes on Lena's video: