Yuzvendra Chahal said on Monday, February 5 there is no competition between himself and his spin partner Kuldeep Yadav but that they enjoy each other's success on the field.
Chahal added that the two wrist spinners share a lot of information about the pitch and opposition batsmen during their bowling spells.
Also read: Yuzvendra Chahal reveals Virat Kohli's role behind wrist spinners' success in South Africa
Chahal and Kuldeep were interviewed by fast bowler Bhuvneshwar Kumar, who celebrates his birthday on Monday, for the Board of Control for Cricket in India's (BCCI) website after the second ODI against South Africa in Centurion.
Bhuvneshwar asked Chahal about the healthy competition between the duo and if they challenged each other to take more wickets and concede less number of runs.
"We have a similarity. We enjoy each other's success. The one who bowls first shares inputs on the pitch and the pace with which we need to bowl at," Chahal, who became the first spinner to take a five-for against South Africa in the "Rainbow Nation" on Sunday (February 4), replied to the "competition" question.
He added: "This makes it easy for the bowler who bowls second as to what the batsmen are trying to do in the middle. Sometimes, we discuss stuff like bowling googlies at one particular batsman.
"We bowl in partnerships and we enjoy bowling with each other."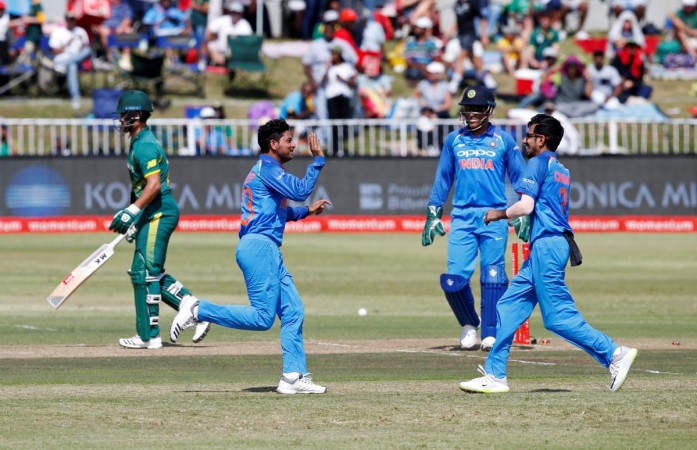 Wrist spin it to win it!
Chahal and Kuldeep came into the reckoning after finger spinners R Ashwin and Ravindra Jadeja struggled to give the team breakthroughs consistently in the middle overs in limited-overs cricket. The Test specialists could manage only five wickets from eight matches between them in ICC Champions Trophy 2017 in England.
On the other hand, the wrist spinners grabbed their opportunities with both hands and bamboozled visiting batsmen from New Zealand, Australia and Sri Lanka in ODI and T20I rubbers at home last year.
If their performances (13 wickets) in the first two ODIs in South Africa are anything to by, it seems Chahal and Kuldeep have aced the overseas test, which has been a big hurdle for finger spinners from the subcontinent in the past.
'Have enjoyed bowling in South Africa'
Kuldeep, who has picked three wickets in each of the first two matches, said he has enjoyed bowling on South African tracks, which according to him, are offering enough pace and bounce to trouble the hosts' batsmen.
"We knew that there would be pace on the wickets, which possibly can help the spinners. In India, batsmen have time to adjust as the wickets are slow. Chahal and myself look to use the bounce to our advantage."
He added: "Also, the ball reaches the batsmen fast, it's difficult to play off the back foot. I have enjoyed bowling here, in fact I find it [conditions] better than India as there is more bounce, pace and drift as well."
Watch the full video here.
https://www.ibtimes.co.in/yuzvendra-chahal-reveals-virat-kohlis-role-behind-wrist-spinners-success-south-africa-759427