Highlights from Day 6 action of Commonwealth Games 2018 from Gold Coast.
Heena Sidhu won her second gold medal in Gold Coast today.
Paralifter Sachin Chaudhary won a bronze in men's heavyweight category.
5 out of 5. Five Indian boxers won quarter-finals in their respective weight categories to assure India at least five bronze medals.
Olympic medalist Gagan Narang faced disappointment in 50m Prone Rifle Men's Final.
18-year-old Hima Das made the final of womens' 400m. Muhammed Anas missed a medal but broke the national record in the mens' 400m final.
India hockey men and women's hockey teams booked their semi-final berths.

India were able to add two medals to their tally on Tuesday and retained their third spot on the table (as of 5:30pm IST).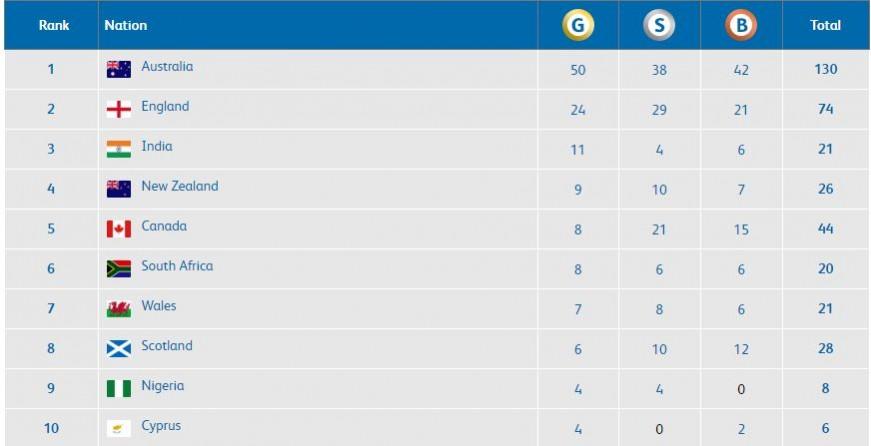 5:25 pm IST: Muhammed Anas of India breaks own national record, sets personal best of 45.31s in the men's 400m final.
However, he misses out on the bronze medal.
Mohammad Anas finishes an amazing 4th in the Commonwealth Games. Absolutely stunning time of 45.31 seconds. A new National Record. ! pic.twitter.com/Ny8KBwvqQn

— jonathan selvaraj (@jon_selvaraj) April 10, 2018
Muhammad Anas, first Indian to reach 400m CWG final since Milkha Singh in 1958, finished fourth with a National Record of 45.31 sec. Credible performance, but fell short. Tough one. #GC2018

— Jaspreet Sahni (@JaspreetSSahni) April 10, 2018
Botswana's Isaac Makwala and Babolaki Thebe finish 1-2. Jamaica's Javon Francis takes bronze with a timing of 45.11s.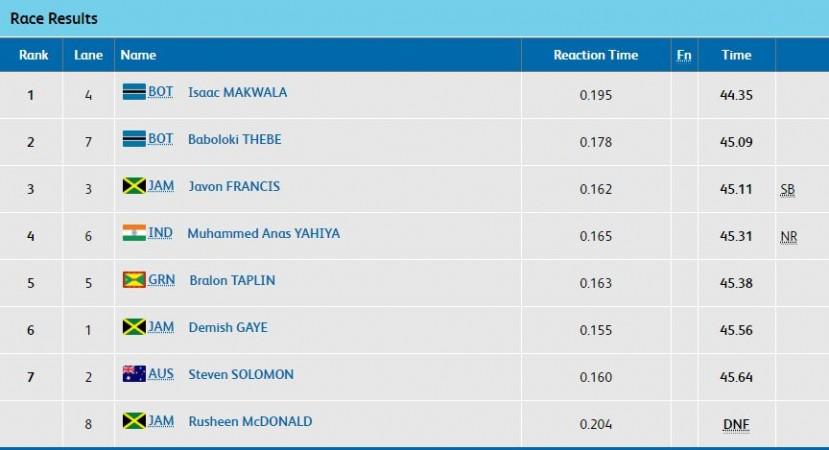 5:05 pm IST: Hima Das qualifies for women's 400m final!

The 18-year-old made the final after clocking her personal best timing of 51.53s. She finished third in Heat 1 of the semi-final. She has qualified for tomorrow's final as the fastest loser.
4:50pm IST: Another medal assured for India in boxing!
Satish Kumar beats Nigel Paul of Trinidad and Tobago by split decision (4-1) reach men's +91kg semifinals.
He becomes the fifth boxer after Amit Phangal (46-49kg), Naman Tanwar (91kg), Hussamuddin Mohammed (56kg) and Manoj Kumar (69kg) to assure India at least a bronze in boxing.
4:45pm IST: Hima Das achieves 400m personal best!
Das clocks a personal best of 51.53s and finishes third in the women's 400m semi-final heat 1.
She now has to wait for the other two heats to finish to know if she will qualify for the final.
Two best third-place finishers will reach the final.
A personal best for Hima Das. 51.53 seconds in pelting rain. She can proud of that. Now has to wait to see if she makes it to final of the women's 400m.

— G Rajaraman (@g_rajaraman) April 10, 2018
Brilliant run Hima Das. Sub 52 in this pouring rain ????

— Vaibhav Manocha (@BeingMinchu) April 10, 2018
4:45 pm IST: Power Paralifter Sachin Chaudhary wins bronze in men's heavyweight category!
He secured a total of 181 points, 10.9 lower than gold medalist Abdulazeez Ibrahim of Nigeria. Yee Khie Jong of Malaysia took the silver medal.
4:25 pm IST: India women qualify for hockey semi-final!
Rani Rampal's goal gives India a 1-0 win over South Africa and a slot in the semi-final at Gold Coast.
The Asian champions needed just a draw to join England from Pool A in the last-four stages but Harendra Singh's girls sealed it with a win.
South Africa were constantly putting pressure on the Indians, who did well to maintain composure. Savita's brilliant save at the start of the third quarter helped India maintain the lead, after which Rani slotted one in following an impressive passage of passing.
Check out the Pool A table of women's hockey below.
4:07 pm IST: Rani gives India the lead against South Africa.
A well-orchestrated field goal from the Indians. The passing that led to the strike was excellent. India will be through to the final if they can maintain the lead here.
4 pm IST: Manoj Kumar becomes the fourth Indian boxer today to reach the semi-final and assure himself a medal.
The 31-year-old beats Australia's Terry Nickolas (4-1) via split decision to make it to the men's 69kg semi-final.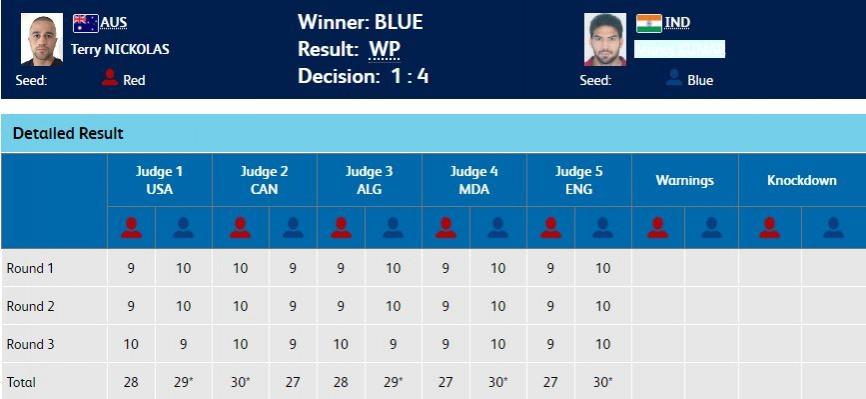 3:59pm IST: Gurjit Kaur misses an opportunity to get her name on the scoresheet by a whisker. Her shot off the penatly corner hits the cross bar. It's still 0-0 here in Gold Coast.
3:50 pm IST: Savita makes an excellent save to deny South Africa early in the third quarter.
Dirkie Chamberlain drove a shot from the penalty corner but Savita quickly dived to her right to make the save. South Africa though are clearly putting more pressure on the Indians here, three penalty corners already.

3:40 pm IST: In the crucial Pool A match, India and South Africa are tied at 0-0 at the end of the second quarter. Both teams had their chances to take the lead but were denied by the goalkeepers and poor finishing.
India buckled up in the second quarter, dominating the possesion but were not able to get the goal.
Rani's girls cannot afford a defeat as they need at least a draw to reach the semi-final.
3:05 pm IST: Boxing - Hussamuddin Mohammed reaches semi-final of men's 56kg event, assures himself at least a bronze medal.
All three Indian boxers have reached the semi-final of their respective events and there are two more to come today.
Mohammed and his Zambian opponent Everisto Mulenga were struggling to land blows at each other in the first round but the Indians buckled up and managed to improve in the second round.
In a riveting third round, Mohammed improved the intensity and impressed the judges, who gave him a unanimous decision. Check it out below.
2:45 pm IST: Squash - Dipika Pallikal and Saurav Ghoshal decimate Pakistani pair in Pool E clash
Indian mixed doubles pairing of Dipika Pallikal Karthik and Sourav Ghoshal defeated Madina Zaffar and Tayyab Aslam of Pakistan 11-2, 11-3 in just 13 minutes in their Pool E match.
1:25 pm IST: Indian events in the evening session of Day 6 in Gold Coast.
Hockey
Women's Pool B - India vs South Africa
Athletics
Men's 400m Final - Muhammed Anas
Women's 400m Semi-final - Hima Das
Boxing
Men's 56kg Quarter-final: Mohammed Hussamuddin vs Everisto Mulenga (ZAM)
Men's 69kg quarter-final: Manoj Kumar vs Terry Nickolas
Mens' +91kg Quarter-final: Satish Kumar vs Nigel Paul
Squash
Dipika Pallikal/Saurav Ghosal vs Tayyab Aslam/Madina Zafar (PAK)
Joshna Chinappa/Harinder Pal Sandhu vs Jacob Kelly/Caroline Laing (CAY)
Para Powerlifting
Men's heavyweight Final - Sachin Chaudhary
Para Swimming
Women's S8 50m Freestyle Final - Vaishnavi Jagtap
12:45 pm IST: Para Table Tennis
India's Maitreyee Sarkar loses women's TT6-10 Singles Group 1 match against Australia's Melissa Tapper 3-0.
Earlier in the day, Vaishanavi Sutar had lost her TT6-10 Singles Group 2 match agaisnt Canada's Stephanie Chan 3-0.
12:30 pm IST: India is on third spot on the medal table after Heena Sidhu's gold medal in the 25m Pistol event.
Medal table of CWG 2018 (as of 12:30pm IST, April 10).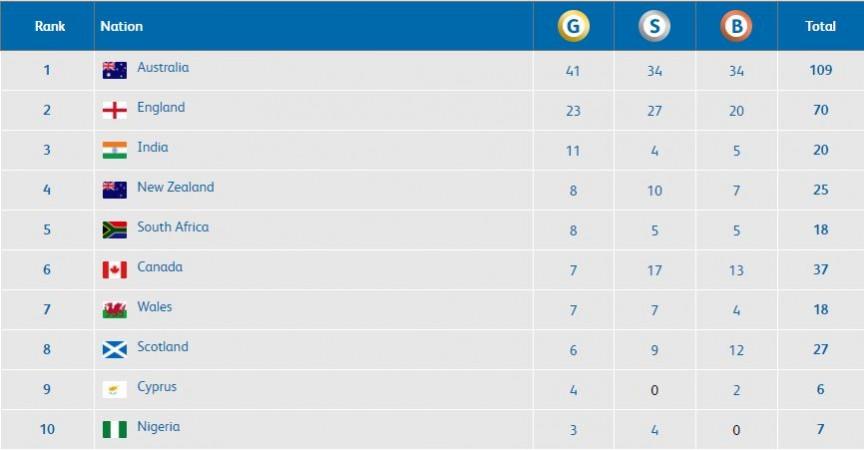 12:25 pm IST: Mohammed Hussamuddin will be the next Indian boxer in action in Gold Coast. He will take on Everisto Mulenga of Zambia for a spot in the men's 56kg semi-final, which will assure him at least a bronze medal.
He will be in action at 2:47 pm IST.
11:28 am IST: Heena Sidhu wins India its 11th gold after setting Games record!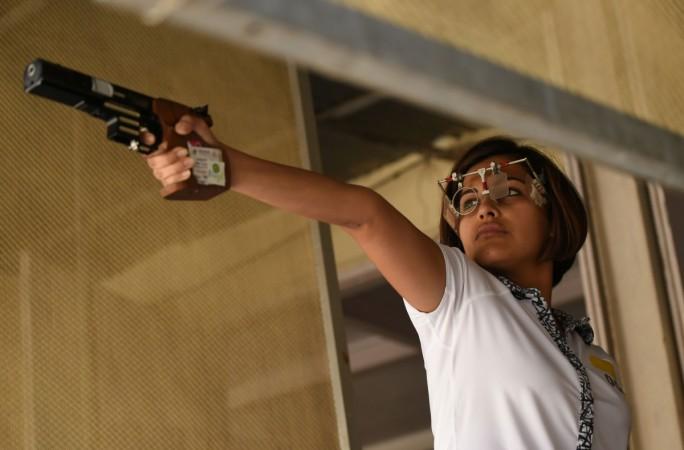 28-year-old Heena Sidhu wins gold in the women's 25m Pistol event. This is the Indian shooter's second medal at Gold Coast as she had won a Silver in the 10m Air Pistol event. She has taken her Commonwealth Games medal tally to four.
Sidhu set the Commonwealth Games record in the final with a total of 38 points. She finished three clear of Australia's Elena Galiabovitch, who won the silver medal.
Congratulations #HeenaSidhu for the gold in women's 25m pistol. #GC2018 #GC2018Shooting

— VVS Laxman (@VVSLaxman281) April 10, 2018
goosebumps #GC2018

— Gaurav Kalra (@gauravkalra75) April 10, 2018
Heena Sidhu has won gold No. 11 for India, claiming the top position in the 25m pistol final. It was nice to drive back home listening to TV commentary, courtesy a dear friend. Heena had to do this to quell some of the criticism around her selection.

— G Rajaraman (@g_rajaraman) April 10, 2018
Notably, Sidhu, who celebrated with her husband and coach Ronak Pandit right after the win in Gold Coast on Tuesday, started poorly and was trailing Galiabovitch until the end of the fifth sereis.
Sindhu fought back, just like she had in the 10m Air Pistol final earlier in the week, with back-to-back full sets in the fifth and sixth series, which helped her leapfrog the Australian.
She headed into the final sereis with a two-point lead over Galiabovitch and shot four points to seal the coveted gold medal.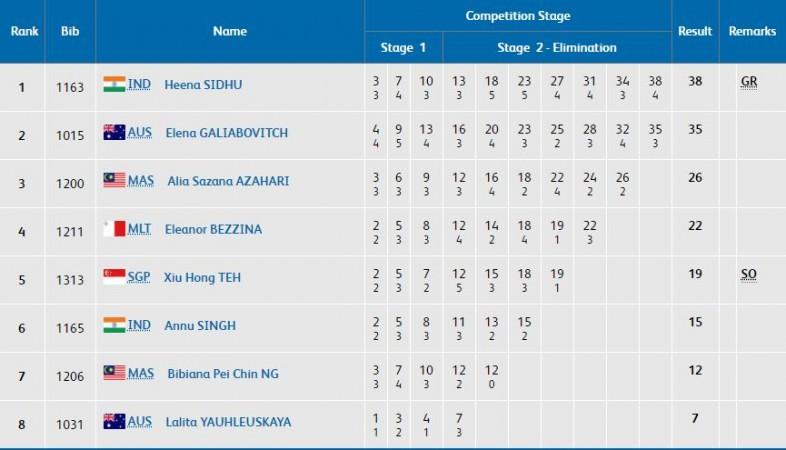 11:15am IST: Shooting - Heena Sidhu in gold medal position!
India's Heena Sidhu is on top of the standing in the women's 25m Pistol Finals.
At the end of the seventh series, she has secured 27 points, two more than nearest-rival, Australia's Elena Galiabovitch.
Meanwhile, 2010 Commonweath Games gold medalist Annu Singh was eliminated at the end of the sixth series. She finished the event at the sixth spot.
11:10 am IST: Shooting - Women's 25m Pistol Finals
Heena Sidhu is currently on the silver medal position in the final with 18 points after Series 5. Annu Singh is facing the risk of being eliminated as he is currently sixth among the six remaing shooters.
11 am IST: Boxing - 19-year-old Naman Tanwar assures himself at least a Bronze in the men's 91kg category.
The teenager was at his brutal best in the quarter-final tie agasint Frank Masoe of Samoa. He wins it by unaimous decision, earning high praise from the television commentators.
Earlier in the day, Amit Phanga had reached the semi-final of men's 46-49kg category, assuring himself a Bronze.
10 am IST: Squash: Solid start for the Indian mixed doubles pairing of Dipika Pallikal Karthik and Saurav Ghoshal.
The Indian pairing beats Guyana's Mary Fung-a-Fat and Jason-Ray Khalil in straight games 11-3, 11-3.
9:40 am IST: Boxer Amit Phangal reaches semi-final, assured of at least a Bronze.
The 22-year-old defats Aqeel Ahmed of Scotland via split decision in a fiercely-fought quarter-final bout.
Both Amit and Ahmed were going toe-to-toe in a riveting boxing contest. The Indian boxer, who won the Asian Championships gold medal in the 49kg category last year, managed to improve his intensity in the second round, which should have sealed the tie in his favour.
He was pushed to the corners but was excellent with the counters.
9:30 am IST: Nothing much to seperate the two boxers in the men's 46-49kg quarter-final.

Both Amit of India and Ahmed of Scotland have traded blows, a lot of them on the face. Amit is displaying good moves, especially after being pushed to the corner. We are heading into the last and what seems to be decisive round here.

9:15 am IST: BOXING
Amit Phangal will be in action in the men's 46-49kg quarter-final in a few minutes.
He will be assured of a medal if he beats Scotland's Aqeel Ahmed in the upcoming bout.
Four more Indian boxers will look to secure semi-final spots today.
Check out the boxing schedule, involving Indian athletes, for Tuesday.
Men's 91kg quarter-final: Naman Tanwar vs Frank Masoe (SAM)
Men's 56kg Quarter-final: Mohammed Hussamuddin vs Everisto Mulenga (ZAM)
Men's 69kg quarter-final: Manoj Kumar vs Terry Nickolas
Mens' +91kg Quarter-final: Satish Kumar vs Nigel Paul
9:05 am IST: Badminton - Satwiksairaj and Ponnappa enter mixed doubles Round of 32.
Satwiksairaj Rankireddy and Ashwini Ponnappa have progressed to Round of 32 in mixed doubles badminton event at Gold Coast.
The young Indian pair decimated Guernsey's Stuart Hardey and Chloe Le Tissier 21-9, 21-5 in just 20 minutes.
8:50 am IST: Shooting - Indian shooters miss medals in the 50m Rifle Prone event.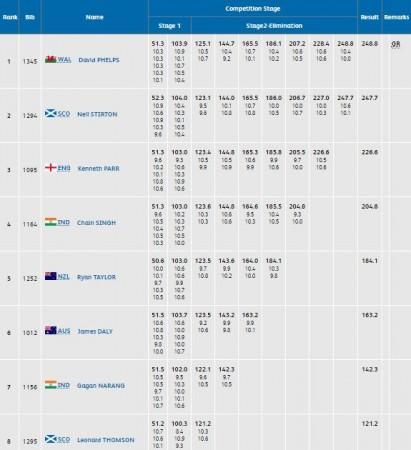 Chain Singh, the 29-year-old from Jammu and Kashmir, narrowly missed a podium finish as he finished fourth among eight shooters in the final.
Wales' David Phelps, who celebrates his birthday today, set a Games Record to win the Gold while Neil Stirton of Scotland won the Silver. Kenneth Parr shot bronze.
8:44 am IST: Shooting - A huge disappointment for Gagan Narang!
The Olympic medalist and the silver medalist of 50m Rifle Prone shooting from 2014 Commonwealth Games has been eliminated from the final in Gold Coast.
He was eliminated second after Sctoland's Leonard Thomson.
7:50 am IST: Shooters Gagan Narang and Chain Singh will be in 50m Rifle Prone final in a short while.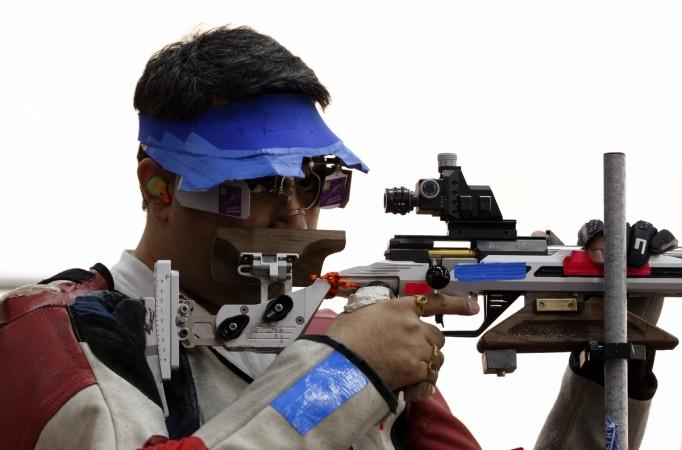 After a fruitful Monday, where India won seven medals, including three Golds, the Asian giants are hoping for more today as veteran shooters have booked final berths. Indian readers, if you have just woken up, here's what has happened so far on Tuesday, April 10.
India men's hockey team clinches the semi-final berth
Harmanpreet Singh's double helped India beat Malaysia in a Pool B match to qualify for the semi-final of the men's hockey event.
The runners-up from 2014 Glasgow Games got off to a good start when drag-flicker Harmanpreet did no mistake with the first penalty corner as early as in the third minute.
Malaysia, however, equalized right after the start of the second quarter with a goal from Faisal Saar, who beat the Indian defense to get past PR Sreejesh.
India's winning goal came from Harmanpreet, who converted yet another penalty corner in the closing stages of the third quarter.
India is now on top of Pool B and they will take on England in the final group match on Wednesday, April 11.
Shooters Gagan Narang and Chain Singh reach 50m Rifle Prone final
Veteran shooters Gagan Narang and Chain Singh finished third and sixth, respectively in the qualifying round earlier today to reach the final.
Gagan finished with 617 points, 3.5 behind leader James Daly of Australia while Singh shot 614.2.
The final of the 50m Rifle Prone will be at 8:30am IST.
Annu Singh and Heena Singhu qualify for Women's 25m Pistol final (Precision/Rapid)
Annu Singh and Heena Sindhu, India experienced shooters, qualified for the women's 25m pistol final after finishing second and third, respectively in the qualifying rounds.
Singh shot a total of 584 after a strong show in both the Precision and Rapid series while Sidhu, who has already secured a Silver in the women's 10m Air Pistol, shot 579.
They will be featuring in the final, starting 11am IST.
Pallikal and Chinappa beat Pakistani pair in women's doubles squash
Joshna Chinappa and Dipika Pallikal Karthik survived a scare against Pakistan's Faiza Zafar and Madina Zafar in the women's doubles Pool C match.
After losing a tight first game 10-11, Chinappa and Pallikal decimated their Pakistani opponents 11-0, 11-1 in the second and third games, respectively.