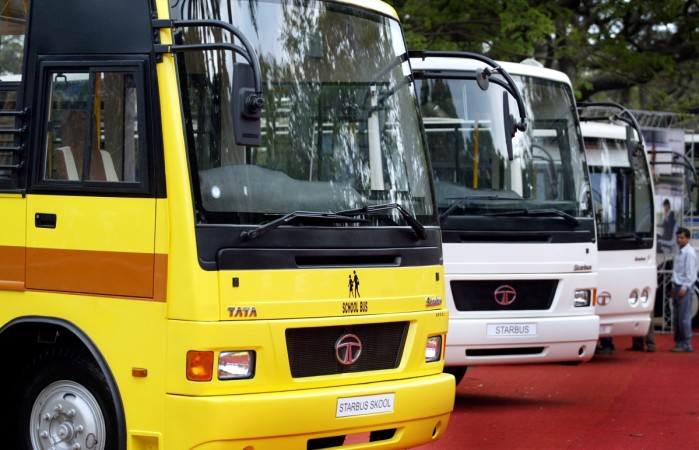 Domestic sales of commercial vehicle makers grew substantially in March 2016 as compared to vehicles sold in March 2015. Ashok Leyland, Tata Motors, Eicher Motors and Mahindra reported growth in the range of 20 to 44 percent, according to regulatory filings to the stock exchanges Friday.
Ashok Leyland
The Chennai-based heavy vehicle maker sold 16,702 units in March 2016, up 31 percent from 12,754 units in the corresponding period last year. Medium and heavy commercial vehicle (M&HCV) segment sales rose 32 percent to 13,240 units as compared to 10,027 units in March 2015.
Tata Motors
The company's domestic commercial vehicle sales stood at 38,247 units, an increase of about 20 percent on a year-on-year basis. M&HCV sales stood at 18,538 units, higher by 24 percent, YoY, according to the company.
Eicher Motors
Eicher Motors Limited's subsidiary VE Commercial Vehicles Limited sold 6,064 vehicles last month, up 44 percent from 4,186 units the company sold in March 2015.
Mahindra & Mahindra
The Mumbai-based Anand Mahindra Group company sold 17,438 units last month, up 24 percent from 14,114 units sold in the corresponding month last year.
Full-year sales
Ashok Leyland sold 1,40,457 units in financial year 2015-2016, an increase of 34 percent from 1,04,902 vehicles the company sold in the preceding financial year. Tata Motors saw its volumes go up to 3,27,142 units, a growth of three percent on a year-on-year basis. Mahindra & Mahindra sold 1,66,783 units, marking a growth of eight percent over 1,53,836 vehicles sold in the preceding financial year.
Ashok Leyland stock hit a new 52-week high Friday at Rs 110.90. Tata Motors closed with a loss of 1.75 percent at Rs 379.55, while Eicher Motors gained marginally to close at Rs 19,238.50. Eicher Motors also makes Royal Enfield two wheelers.
Most of the car-makers, such as Maruti Suzuki, Hyundai, Renault and Mahindra, reported growth in domestic car sales in March 2016.
Honda Cars and Tata Motors, however, saw their domestic sales declining. Tata Motors reported 44 percent fall in passenger vehicle sales to 8,454 units in March 2016 compared to 15,039 vehicles sold in March 2015.