Stargazers are all set to be awestruck as they are about to witness a rare occurrence. The rare comet NEOWISE is all set to blaze through the night sky with its the glistening trail.
Passing at a distance of 103 million kilometres. the rare comet will make its closest approach to Earth on July 23, Thursday. The space enthusiasts in India are waiting with bathed breathe to watch this phenomenon as it is visible to the naked eyes.
While it continues to be visible to the naked eye in most parts of the world, some places with low visibility might require a basic pair of binoculars to see the comet.
About the NEOWISE comet
Officially named C/2020 F3, comet NEOWISE was first detected approaching the Sun in March this year by the Wide-field Infrared Survey Explorer (WISE) space telescope's Near-Earth Objects (NEO) mission. It made its closest approach to the sun on 3 July 2020. It is currently climbing at the horizon, visible higher and higher in the sky each day as it dims.
When will the NEOWISE comet occur?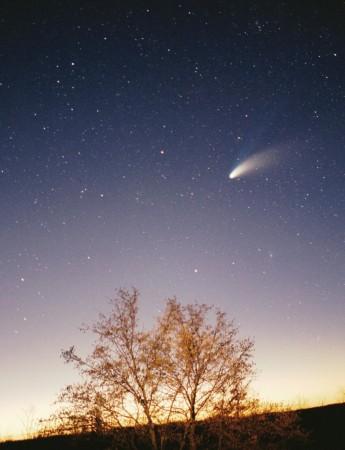 Tonight at 9:30 pm, the comet is said to appear after sunset around the world in the north-west direction for a limited period of time. It can be spotted near the Big Dipper constellation after sunset.
In India, the comet sets at 9:30 pm. In northern latitudes, it's visible for longer into the night. While the darker sky would make it easier to spot, the crescent moon's brightness may make it difficult to find the comet. However, the moon sets at around 8.30 pm, giving a one-hour window for a clearer view.
How to watch the NEOWISE comet?
The NEOWISE comet can be seen with naked eyes but if you want the tails to be more prominent then
Apps for skygazing like Sky Guide and others can also track the comet and help you point out its occurrence.