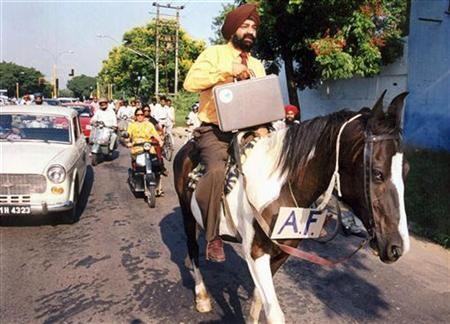 Actor cum comedian Jaspal Bhatti, well-known for his famous television series "Flop Show", died in a road accident early Thursday near Jalandhar, Punjab.
The 57-year-old comedian was travelling from Moga to Jalandhar for the promotion of his Punjabi Film "Power Cut", when his car collided with a truck on the highway. Police said that the accident occurred at around 3 am.
Bhatti was rushed to a hospital in Jalandhar where doctors declared him dead.
His son Jasraj Bhatti, who was driving the car, and actress Surilie Gautam were also injured in the accident, Press Trust of India reported.
Bhatti's cremation ceremony will take place on Thursday evening after his body is brought to Chandigarh once legal formalities including the post-mortem are completed, his associate Vinod Sharma told the news agency.
The Amritsar-born actor is survived by wife Savita and two children - son Jasraj and daughter Raabiya.
Bhatti's popular television series "Ulta Pulta" and "Flop Show", which ran in the late 1980s and early 1990s on Doordarshan, are remembered even today.
Besides television, Bhatti acted in a few Bollywood films including "Hamara Dil Aapke Paas Hai", "Koi Mere Dil Se Poochhe", "Kuch Naa Kaho" and "Yeh Hai Jalwa". He also acted in Aamir Khan and Kajol's 2006 film "Fanaa" in which he played the role of a guard, Jolly Good Singh.
He is known for highlighting serious issues like corruption, inflation and female foeticide with his humour.
"Power Cut" directed by Bhatti is scheduled to release on Oct 26. Apparently, his son is making his debut with the romantic comedy film.
Also Read:Comedy King Jaspal Bhatti Laid to Rest in Chandigarh